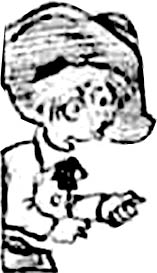 Pete


Religion: not determined yet

Name: Pete

Other Names: "Buddy"

Classification:

lead character
Publisher(s):

First Appearance: New Fun #2 (Mar. 1935)
Creators: Archie
Number of Appearances: 3
Ally: Buck
Birth Place: USA
Race: white
Gender: male
Note: featured in cowboy humor strip
"Pete's Place" was a cowboy humor strip that appeared briefly in New Fun, which was the very first comic book series published by the company which would become DC Comics.
"Pete's Place" is set in the Old West"
It is not entirely clear who Pete is. In the "Pete's Place" strip that appears in New Fun #2 (as a one-row filler strip on the same page as a 10-panel "Barry O'Neill" strip), the first panel shows a saloon in a dusty Old West town. The sign on the saloon's facade reads "Pete's Place." In the foreground we see a cowboy named Buck, sitting on a horse. A boy is running up to Buck. The boy is identifiable as a young boy, perhaps 10 to 12 years of age, by his appearance as well as by his attire. He is both a cowboy (although perhaps only culturally) and a child.
The boy is never identified by name in this strip. Buck calls him "Buddy," but this appears to be a term of endearment rather than a formal name. What is confusing is that the boy seems to be the strip's main character. So... is this boy "Pete." That would seem to make sense, although it seems odd that a young boy would own a saloon, or that a saloon would be named after him.
Perhaps "Pete's Place" is named after the boy's father, who is also named "Pete."
Perhaps the "Pete's Place" sign on the saloon is not really meant to identify the name of a saloon, but to identify the name of the comic strip. This would be redundant, however, as the name of the strip "Pete's Place" appears in print in the upper left-hand corner of the page, just above the strip.
So technically speaking, just from looking at the four panels of this strip, we can not say conclusively that the titular "Pete" is the young boy. But for the sake of simplicity, we will assume this is the case. The alternative is that we have a "Pete's Place" comic strip in which "Pete" does not appear, but which simply takes place in front of a saloon named "Pete's Place."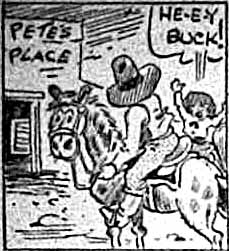 This character is in the following story which has been indexed by this website:

New Fun #2 (Mar. 1935)
(lead character)

Suggested links for further research about this character:
- https://www.comics.org/issue/86/
- http://unabridgeddc.tumblr.com/post/34101899494/comic-2-new-fun-2-date-march-1935-cover
- http://www.comiccollectorlive.com/LiveData/Issue.aspx?id=60cf078c-99b5-4cd6-b040-866a6d335d06