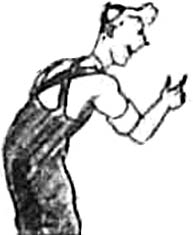 Jigger


Religion: not determined yet

Name: Jigger

Classification:

lead character
Publisher(s):

First Appearance: New Fun #1 (Feb. 1935)
Creators: Adolph Schus
Number of Appearances: 2
Enemy of: two escaped convicts
Romantic Interest: Ginger
Ally: Blue Devils
Occupation: gas station attendant
Birth Place: USA
Race: white
Gender: male
Note: workaholic; in short-lived adventure strip
Jigger and Ginger were two young people who apparently attend the same high school. They are close friends. At one point, Kip (apparently their classmate) specifically talks to Ginger and specifically refers to Jigger as "your boy friend," so it is likely they are a romantic couple, at least to some small extent. Jigger and Ginger were the stars of the "Jigger and Ginger" adventure/mystery feature which first appeared in New Fun #1. This is historically significant because this was the very first issue of the very first comic book series ever published by the company that became DC Comics.
This early comic, like others of its day, was an anthology comic that printed numerous short strips, typically only one page long. Many features that began in New Fun went on for many issues, eventually forming extended story arcs. The "Jigger and Ginger" appears to have intended to do the same, but it actually only appeared in the first two issues of the series. The "Jigger and Ginger" strip ended abruptly on a cliffhanger. Their story was never finished.
What was briefly shown of these two characters was that Jigger and Ginger had a date planned to do something. But Jigger, being something of a workaholic, stood Ginger up. Ginger was understandably upset. For one thing, Jigger was supposed to give Ginger a ride home. She encountered Kip, a wealthy young man with a flashy car, apparently somebody she knew from high school. Kip offered Ginger a ride home in his car. Jigger watched as they drove away.
While driving Ginger home, Kip stopped at the gas station her Jigger worked. While there, Kip showed his true colors as something of a jerk. He intentionally treated Jigger as a lowly servant, humiliating Jigger in friend of his girlfriend Ginger. Kip then sped away with Ginger in the car, although at this point she probably didn't want to be with him at all.
Soon thereafter, a police car pulld into the gas station and Jigger overheard a report that came over the police radio. From the report, Jigger learned that two escapees from a nearby prison had abducted a young couple in a car. Kip recognized the car's license plate: it was Kip's car. Jigger realized that the kidnapped "young couple" mentioned in the police report was Ginger and Kip.
Some of Jigger's friends (who called themselves "Blue Devils", perhaps in reference to their school's mascot) had pulled into the gas station right before the police car. Jigger jumped into their car, took the wheel, and they raced off to rescue their friend and fellow co-worker Ginger.
That is where the story ends in New Fun #2. Presumably the writer conceived the story with a resolution involving Jigger and his co-workers rescuing Ginger from the escaped convicts. But nothing else was ever published featuring these characters, so we will never know.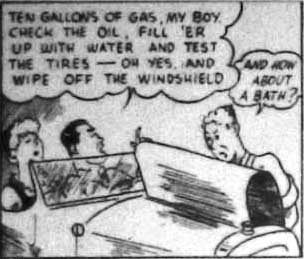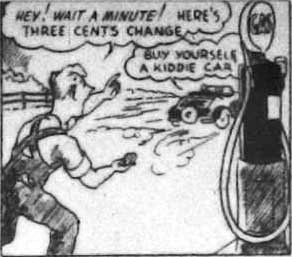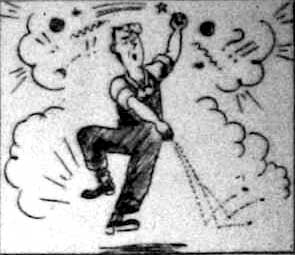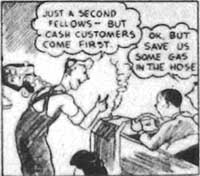 Suggested links for further research about this character:
- http://dc.wikia.com/wiki/New_Fun_Comics_Vol_1_2
- https://www.comics.org/issue/85/
- https://www.comics.org/issue/86/
- http://unabridgeddc.tumblr.com/post/34101899494/comic-2-new-fun-2-date-march-1935-cover