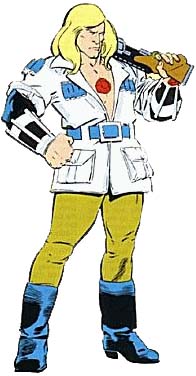 The Religious Affiliation of


Bloodstone


Ulysses Bloodstone

Religion: primal-indigenous

Name: Bloodstone
Alter Ego: Ulysses Bloodstone
Other Names: Ahab; Frank; Redstone Kid
Classification:

hero
Publisher(s):

First Appearance: Marvel Presents #1 (Oct. 1975): "Dweller from the Depths!"
Creators: John Warner, Mike Vosburg, Bob McLeod
Super? (Has Super Powers/Special Abilities/Technology): Yes
Number of Appearances: 43
Teams/Affiliations: The Monster Hunters
Ally: Frankenstein's Monster
Location: Europe
Birth Place: North Vanaheim, Europe
Race: white
Gender: male
Ulysses Bloodstone was born in around the year 8250 B.C. in North Vanaheim, Europe.
The Monster Hunters met at the Explorers Club in New York City.
This character is in the following 29 stories which have been indexed by this website:

Captain America

The Defenders (vol. 2) #9 (Nov. 2001): "While You Were Out...!"

Marvel Presents

Marvel Universe

Marvel Universe: Millennial Visions #1 (Feb. 2002): "Have You Met My Sister?"
(mentioned)

Marvel: The Lost Generation #2 (Jan. 2001): "After... and Before"

Nextwave: Agents of H.A.T.E. #8 (Nov. 2006)

The Rampaging Hulk

Thunderbolts (vol. 1) #46 (Jan. 2001): "Heart and Soul"
(cameo)

Suggested links for further research about this character and the character's religious affiliation:
- http://www.marvunapp.com/Appendix/bloodstoneulysses.htm
- http://www.comicvine.com/bloodstone/29-10960/
- http://en.wikipedia.org/wiki/Ulysses_Bloodstone
- http://www.comicboards.com/marvelguide/b2.html
- http://www.marvunapp.com/master/blooblz.htm
- http://www.marvunapp.com/master/mommon.htm