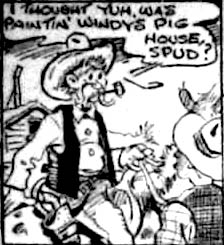 Windy


Religion: not determined yet

Name: Windy

Classification:

supporting character
Publisher(s):

First Appearance: New Fun #2 (Mar. 1935)
Creators: Adolph Schus
Number of Appearances: 1
Ally: Idaho
Occupation: farmer
Race: white
Gender: male
Note: got paint on himself when he tried to do farmhand's job
Idaho rode up on his horse and talked to farmhand Spud. Idaho said: "I thought yuh was paintin' Windy's pig house, Spud?"
Spud replied: "I was goin' tuh, Idaho, but he got mad at me an' said he'd put the paint on hisself."
"Did he?" asked Idaho.
Idaho was shocked at Spud's reply. Spud told him: "Yep - that's where he put most of it, Idaho!!"
If one reads this literally, in panel 2, it sounds like Windy (according to Spud's account) told Spud that he himself (Windy) would put the paint on himself. The punchline (in panel 4) was that he (Windy) put the paint on himself (meaning he painted his own body).
At first glance, a strictly literal reading of this strip seems to make no sense. But upon thinking about it more carefully, here is an interpretation which makes sense both as a narrative story and as a humorous joke: Apparently when Windy got mad at Spud because Spud did not complete the job within the expected time frame. Windy then tried painting the pig house himself. But because Windy was so unskilled at doing such a task, he ended up getting a large amount of paint on himself.
At least that is what I can determine from my reading of this four-panel comic strip. As somebody reading this in 2014, I may very well be unable to understand everything from this strip, which was created in 1935.
I'm quite certain that I see a comma between the words "tuh" and "Idaho" in the second panel. But the comma is lighter than other commas in the strip, and it is possible to imagine it is merely a smudge. If one removes that comma, one can obtain a completely different reading of the meaning of the strip. Without the comma, Spud is telling the cowboy (whose name we no longer know) that he was planning to go to Idaho (the state). Then Windy got mad at him (Spud) and Windy himself put most of the paint in Idaho. I don't think that actually makes any sense, though.

This character is in the following story which has been indexed by this website:

New Fun #2 (Mar. 1935)
(mentioned)