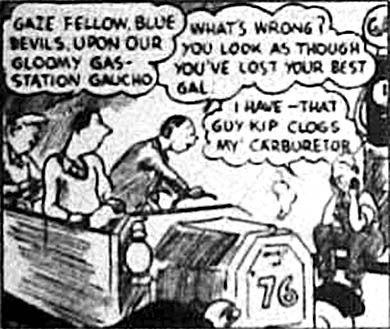 Blue Devils


Name: Blue Devils

Other Names: Jigger's friends

Classification:

supporting characters

group
Publisher(s):

First Appearance: New Fun #2 (Mar. 1935): "The Escaped Convicts: Part 1"
Creators: Adolph Schus
Number of Appearances: 1
Enemy of: two escaped convicts
Type of Organization/Group: high school student
Birth Place: USA
Race: white
Note: went with their friend Jigger to rescue Ginger
In the 1-page "Jigger and Ginger" strip that appears in New Fun #2 (Mar. 1935), a group of three young men pull into Jigger's gas station. The car they drive has a large number "76" on the front. Carefully reading this strip, it is clear that these three young people already know Jigger. It appears that they are friends of his from high school. They apparently already know Jigger's girlfriend Ginger and also Kip, the young man who gave Ginger a ride home. Jigger, Ginger, Kip and the three friends in car 76 probably all attend the same high school.
Upon pulling into the gas station, the young man in the back seat says (in reference to Jigger): "Gaze fellow Blue Devils, upon our gloomy gas-station gaucho."
The term "Blue Devils" seems like it might be the mascot from their high school. Alternatively, it may simply be a name he and his friends use to refer to themselves, like he name of a club or friendly "gang."
The driver asks Jigger: "What's wrong? You look as though you've lost your best gal."
Jigger answers: "I have -- that guy Kip clogs my carburetor."
As a police car pulls into the gas station, Jigger tells the young man in car 76: "Just a second fellows -- but cash customers come first."
Note that Jigger calls the young men "fellows." This, and the friendly way in which Jigger interacts with this particular car's customers further suggests that they are all friends.
While filling up the police car's gas tank, Jigger overhears a report that two escaped convicts have stolen the car Kip was driving, and they abducted Kip and Ginger.
Jigger immediately gets into car 76 and drives away with the Blue Devils. They don't question him doing this, they simply ask what is going on. Jigger hastily explains simply by mentioning the names of their friends, saying: "Convicts! Kip! Ginger! Danger!"
Given that the Blue Devil's so readily let Jigger commandeer their car, it is clear that they are friends who already know each other. The Blue Devils are quite willing to lend Jigger their car and accompany him to try to rescue Ginger and Kip.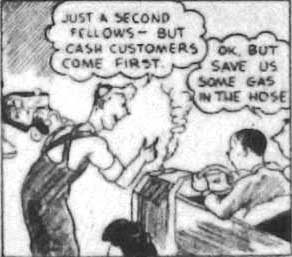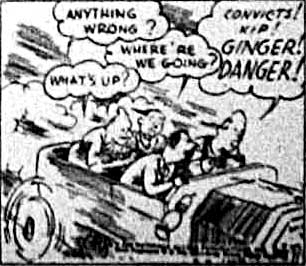 This character is in the following story which has been indexed by this website:

New Fun #2 (Mar. 1935): "The Escaped Convicts: Part 1"

Suggested links for further research about this character:
- http://dc.wikia.com/wiki/New_Fun_Comics_Vol_1_2
- https://www.comics.org/issue/86/
- http://unabridgeddc.tumblr.com/post/34101899494/comic-2-new-fun-2-date-march-1935-cover