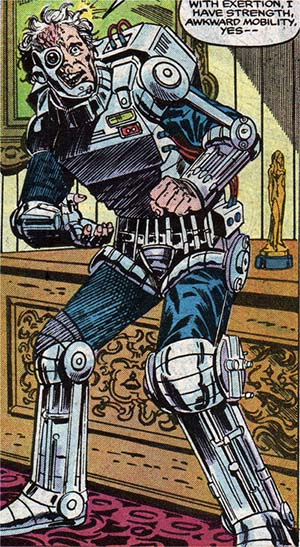 The Gnome


Dr. Horst Kleinmann

Religion: not determined yet

Name: The Gnome

Alter Ego: Dr. Horst Kleinmann

Other Names: Hurst Kleinmann; Dr. Horst Kleinman; Doctor Kleinmann

Classification:

villain

scientist
Publisher(s):

New Universe
First Appearance: Nightmask #1 (Nov. 1986): "The Awakening"
Creators: Archie Goodwin, Tony Salmons, Bret Blevins
Super? (Has Super Powers/Special Abilities/Technology): Yes
Number of Appearances: 5
Enemy of: Nightmask, Teddy Remsen
Worked for: The Kleinmann Institute
Location: Zurich, Switzerland
Birth Place: Switzerland
Race: white
Gender: male
Note: dream researcher
Dr. Horst Kleinmann was responsible for the death of Keith Remsen's parents. Kleinmann sent an assassin to kill Keith Remsen. The bomb killed Keith's parents, paralyzed his sister Teddy, and put him into a coma. After the White Event, Keith emerged with super-powers and became "Nightmask." Dr. Horst Kleinmann became his recurring foe, probably the closest thing he had to an "arch-enemy.