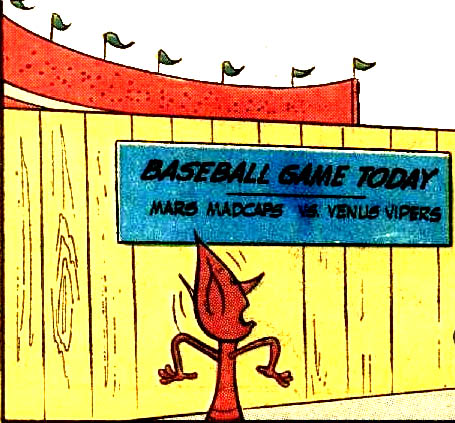 The Religious Affiliation of


Venus Vipers


Religion: alien

Name: Venus Vipers
Classification:

supporting characters

group
Publisher(s):

First Appearance: Cosmo the Merry Martian #6 (Oct. 1959): "The Bookworm!"
Creators: Bob White
Number of Appearances: 1
Enemy of: Mars Madcaps
Type of Organization/Group: sports team
Planet: Venus
Race: Venusian
Note: pro baseball team; Jimmy Jupiter watched their game
Jimmy Jupiter borrowed a large stack of books from the Interplanetary Public Library. Some aliens observed him emerging from library with the huge stack of reading material. "Jimmy sure is studious!" one alien said. Another observed: "He's the smartest man in the solar system!"
But then something unexpected happened. They saw Jimmy didn't borrow these books to read them. He stacked them up next to the fence around the ballpark and he stood on the books so that he could watch a baseball game between the Mars Madcaps and the Venus Vipers!
Jimmy may indeed be a bookworm, but it seems there is more to him than that. He is also a baseball fan.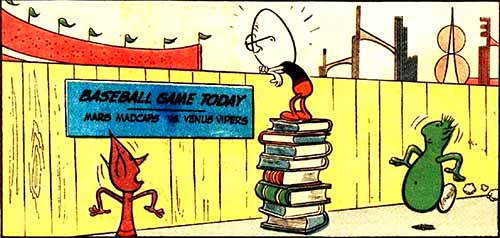 This character is in the following story which has been indexed by this website:

Cosmo the Merry Martian #6 (Oct. 1959): "The Bookworm!"
(mentioned)

Suggested links for further research about this character and the character's religious affiliation:
- http://cartoonsnap.blogspot.com/2009/04/squarehead-returns-for-command.html