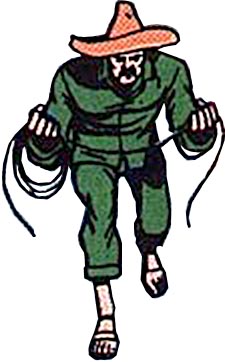 Ramon Dantas


Religion: not determined yet

Name: Ramon Dantas

Other Names: Ramon

Classification:

villain
Publisher(s):

First Appearance: The X-Men (vol. 1) #25 (Oct. 1966): "The Power and the Pendant!"
Creators: Roy Thomas, Werner Roth, Dick Ayers
Number of Appearances: 2
Enemy of: X-Men
Ally: Toloc
Occupation: mercenary
Worked for: El Tigre
Nation: San Rico, Central America
Race: Hispanic
Gender: male
Note: uses bolas
The two mercenaries (or "minions") who accompany El Tigre throughout the two-issue story arc beginning in X-Men (vol. 1) #25 are Ramon and Toloc. Toloc is definitely an "indigenous person" or tribal native, but sources differ regarding Ramon. On balance, it seems that he is a Hispanic without such direct connection to the native tribes, but some sources refer to him as a Native South American as well. One source referred to both Ramon and Toloc as El Tigre's "Indian servants."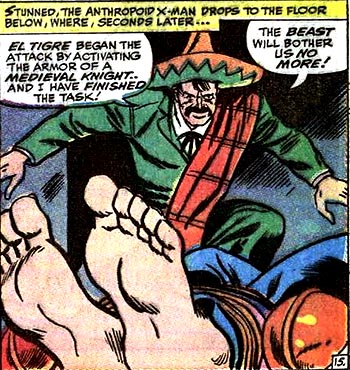 Suggested links for further research about this character:
- http://marvel.wikia.com/Ramon_Dantas_(Earth-616)
- http://www.comicvine.com/ramon/4005-76636/
- http://marvel.wikia.com/X-Men_Vol_1_25
- http://www.uncannyxmen.net/db/issues/showquestion.asp?fldAuto=1033