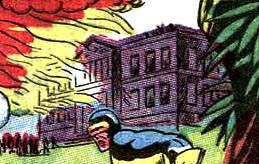 Abercrombie Orphanage


Name: Abercrombie Orphanage

Classification:

supporting characters

group
Publisher(s):

First Appearance: The X-Men (vol. 1) #25 (Oct. 1966): "The Power and the Pendant!"
Creators: Roy Thomas, Werner Roth, Dick Ayers
Number of Appearances: 1
Defended or Helped by: X-Men
Note: caught fire; X-Men saved orphans and faculty
The old Abercrombie Orphanage was apparently located in the state of New York, but not in New York City. It must be located between New York City and the Westchester County headquarters of the X-Men, because the X-Men saw it on fire and stopped to help while they were driving Jean Grey back to Metro College.
Number of group members listed below: 2
Character
(Click links for info about character
and his/her religious practice, affiliation, etc.)
Religious
Affiliation
Team(s)


[Notes]

Pub.
#
app.

[caught fire; X-Men saved orphans and faculty]

1
Abercrombie Orphanage
[saved from fire by X-Men; encounters Spider-Man years later]
3