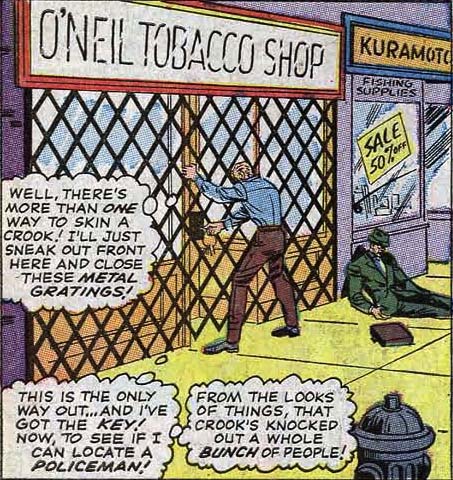 O'Neil


Religion: not determined yet

Name: O'Neil

Classification:

supporting character
Publisher(s):

First Appearance: The X-Men (vol. 1) #28 (Jan. 1967): "The Wail of the Banshee!"
Creators: Roy Thomas, Werner Roth, Dick Ayers
Number of Appearances: 1
Occupation: business owner
Worked for: O'Neil Tobacco Shop
Location: New York City, New York, USA
Race: white
Gender: male
Note: owns O'Neil Tobacco Shop, on corner of Broadway & 44th St.
When the mutant super-hero Banshee first appeared, he acted as a petty thief. When he realized he was out of tobacco for his pipe, Banshee left Factor Three headquarters and used his powers to rob O'Neil's tobacco shop, located on the corner of Broadway & 44th St. in New York City. The tobacco shop was closed at the time. Banshee stole high-quality imported tobacco from the tobacco shop.
Banshee's theft of this tobacco shop brought him to the attention of the X-Men, who mobilized a mission to investigate. Eventually this led to a confrontation between the X-Men and the group Banshee belonged to: Factor Three.
Later (at the end of the issue) it is revealed that Banshee is not really a villain or a thief. He was being blackmailed by Factor Three (via an explosive headband) and forced to work for them.