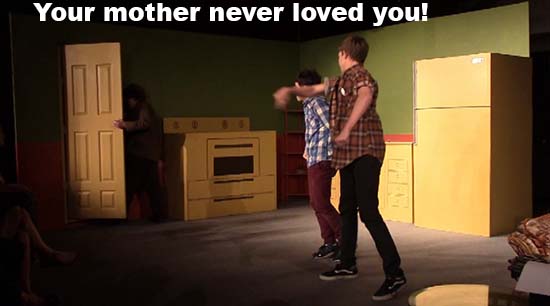 Mrs. Hewitt


Religion: not determined yet

Name: Mrs. Hewitt

Classification:

supporting character
Publisher(s): McClintock High School
First Appearance: Writer's Block (2014)
Creators: Jeff Darge, Fargo Tbakhi
Number of Appearances: 1
Family/Relatives: F. Jackson Hewitt (son), John Hewitt (husband)
Nation: USA
Race: white
Gender: female
Note: mother of F. Jackson (rival/associate of Milo and Robert)
F. Jackson Hewitt was sort of a friend or associate of Milo and Robert, but he was really more of a rival. Hewitt visited the two unsuccessful would-be playwrights to gloat over his latest success as a playwright.
As Hewitt was leaving, he told the pair: "Well. It's been nice talking to you two, you dithering pond scum, you."
As Hewitt was exiting their apartment, Milo called out to him: "Your mother never loved you."
There is no particular reason to believe that F. Jackson's mother did not actually love him. From what can be seen in the play, F. Jackson appears to have been rather spoiled as a child. Milo may not have known F. Jackson's mother at all. He probably just said this as a parting insult.
This character is in the following story which has been indexed by this website:

Writer's Block (2014)
(mentioned)