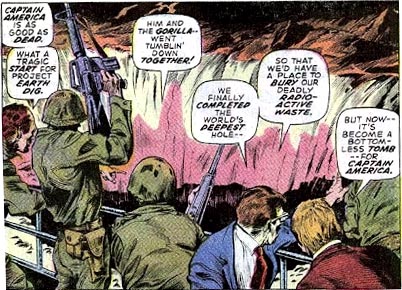 Project Earth-Dig


Name: Project Earth-Dig

Other Names: Project: Earthdig; Project EarthDig; Project Earth Dig; Project: Earth Dig

Classification:

supporting characters

group
Publisher(s):

First Appearance: Captain America (vol. 1) #135 (Mar. 1971): "More Monster Than Man"
Creators: Stan Lee, Gene Colan, Tom Palmer
Number of Appearances: 2
Enemy of: Mole Man, The Monster Ape
Defended or Helped by: Captain America, Falcon
Location: New York City, New York, USA
Note: SHIELD/military project to dig hole for radioactive waste
Project: Earthdig was intended to be the deepest hole ever dug. It went down miles. The intention was to use the hole to dispose of the nation's dangerous nuclear waste. Unsurprisingly, the project angered denizens of the underground, particularly Mole Man.
Also, Dr. Erik Garbo (a former SHIELD scientist whose experiments turned him into Monster Ape) tried to sabotage Project: Earthdig. It was Garbo's sabotage attempts which brought the project to the attention of Captain America and Falcon, and led to them falling deep into the hole.
Garbo (as Monster Ape) eventually died while preventing the Mole Man from attacking the surface world in retaliation for digging Project: Earthdig.
This character is in the following 2 stories which have been indexed by this website:

Captain America

Suggested links for further research about this character:
- http://www.marvunapp.com/Appendix/monstrap.htm
- http://comicbookdb.com/character.php?ID=958
- http://www.marvunapp.com/master/progprok.htm
- http://www.marvunapp.com/master/mommon.htm
- http://www.captainamericalibrary.com/superhero-library/captain-america/captain-america-comic-details.aspx?id=CA1&issue=135
- http://www.supermegamonkey.net/chronocomic/entries/captain_america_135-138.shtml