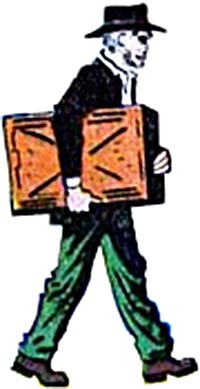 The Religious Affiliation of


Z-4


Religion: alien

Name: Z-4
Classification:

villain
Publisher(s):

First Appearance: Journey Into Mystery (vol. 1) #74 (Nov. 1961): "The Mechanical Men!"
Creators: Stan Lee, Steve Ditko
Number of Appearances: 1
Enemy of: Patrick Smith
Ally: unnamed alien leader
Occupation: infiltrator, peddler
Gender: male
Note: tried to sell infiltrator bots disguised as dolls
Z-4 was an alien who was the vanguard of an alien plot to infiltrate planet Earth. The aliens' plan was for Z-4 to disguise himself as a common street peddler. He offered to sell mechanical dolls which seemed quite amazing, as they moved on their own, yet they were very inexpensive.
In truth, the dolls (the titular "Mechanical Men") were devices that the aliens would use to infiltrate Earth society. But before Z-4 could sell even one doll to the American public, a police officer (Patrolman Patrick Smith) stopped him and demanded to see his peddler's license. Z-4 did not have a valid license (or any type of documentation) which showed he was allowed to sell products in public. Although some passersby complained and thought that Officer Smith should leave the "peddler" alone, Officer Smith insisted. He felt the law was the law! He told Z-4 to go back where he came from!
Patrolman Smith was not actually aware that Z-4 was an alien intent on invading Earth. But the alien thought that Patrolman Smith's words and actions meant that Earth's authorities were wise to the aliens' plot.
Z-4 went back to his spaceship and told his leader that they no longer had the element of surprise, and that the Earth people knew what they were up to. So the aliens retreated.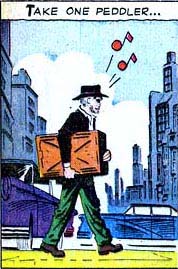 This character is in the following 2 stories which have been indexed by this website:

Journey Into Mystery (vol. 1) #74 (Nov. 1961): "The Mechanical Men!"
(lead character)

X-Men (vol. 1) #93 (June 1975): "The Mechanical Men!"
(lead character)

Suggested links for further research about this character and the character's religious affiliation:
- http://marvel.wikia.com/Journey_into_Mystery_Vol_1_74
- https://www.comics.org/issue/16558/
- http://michaelsidney.thehoskincentre.com/horrorjim.html