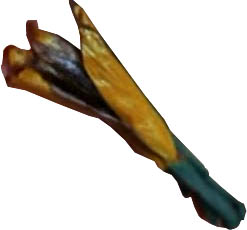 The Religious Affiliation of


Mantis Khani


Religion: N.A.

Name: Mantis Khani
Other Names: mantis conti; mantis canti
Classification:

villains

group
Publisher(s):

First Appearance: Gilligan's Island - Season 2, Episode 13 (16 Dec. 1965): "Gilligan Gets Bugged"
Creators: Jack Gross Jr., Michael R. Stein, Gary Nelson
Number of Appearances: 1
Enemy of: Gilligan
Type of Organization/Group: animal species
Location: Gilligan's Island
Species: insect
Gilligan is bitten by a large green insect with yellow wings, the likes of which he is not familiar with. He is worried about the bite, and becomes far more worried when he consults the Professor's book. According the what the book says about this type of insect, it is a deadly "Mantis Khani" and it's bite means that Gilligan has only 24 hours left to live!
The plot of this episode revolves around Gilligan's response to this bite and the dire news, the castaways' attempts to help or comfort Gilligan, and eventually the other castaways being bitten as well.
One significant problem with the "Mantis Khani" is that it does not travel alone. It travels in swarms of thousands. Although Gilligan initially encountered only a single insects, later all the castaways on the island are bitten.
Only one "Mantis Khani" is ever seen on screen, however.
At one point, the Professor explains to the other castaways that there are several species of "Mantis Khani," and that each species has several genera, and each genera has several sub-genera. Obviously this explanation is somewhat at odds with how the actual taxonomic classification of animals works. But one can chalk this mistake up to the fact that the show's writers are TV writers, and not biologists.
According to the Professor, the particular type of "Mantis Khani" that bit Gilligan is very rare.
Much of the episode's plot centers on the castaways attempts to round up ingredients the Professor says he needs in order to make an antidote serum.
At the end of the episode, it turns out that the bite of this insect is not deadly. The insect itself dies within 24 hours of biting a person.
The show uses a rather simple prop to portray the insect. The prop is not even seen moving. Yet this insect causes a considerable amount of panic and consternation on the island.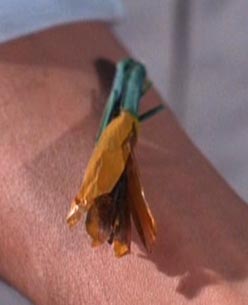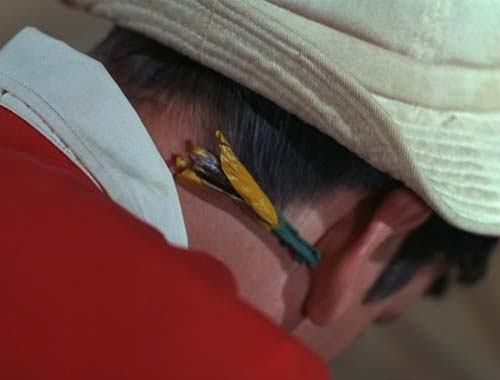 This character is in the following story which has been indexed by this website:

Gilligan's Island - Season 2, Episode 13 (16 Dec. 1965): "Gilligan Gets Bugged"

Suggested links for further research about this character and the character's religious affiliation:
- http://www.imdb.com/title/tt1163496/
- http://gilligan.wikia.com/wiki/Gilligan_Gets_Bugged
- http://www.tv.com/shows/gilligans-island/gilligan-gets-bugged-10158/
- http://www.tvguide.com/tvshows/gilligans-island-1965/episode-13-season-2/gilligan-gets-bugged/100178
- http://en.wikipedia.org/wiki/Gilligan's_Island_(season_2)
- http://gilligan.wikia.com/wiki/Mantis_Khani