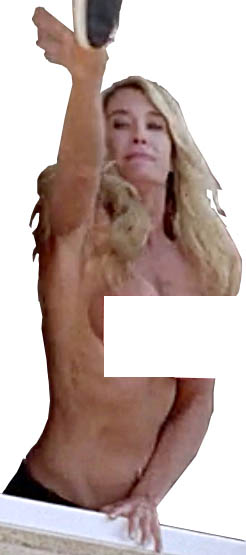 unnamed sexy neighbor


Religion: not determined yet

Name: unnamed sexy neighbor

Other Names: Sexy Neighbor

Classification:

supporting character
Publisher(s): American Movie Classics

First Appearance: Breaking Bad - Season 1, Episode 1 (20 Jan. 2008): "Pilot"
Creators: Vince Gilligan, Linda Speciale (actress)
Number of Appearances: 1
Romantic Interest: Jesse Pinkman
Location: Albuquerque, New Mexico, USA
Race: white
Gender: female
Note: lived next door to Jesse's meth lab
Walter White first met Jesse Pinkman when Walter went on a "ride-along" with his brother-in-law, DEA agent Hank Schrader. Walter watched as Hank raided a meth lab. The lab was used by Emilio Koyama and Jesse Pinkman to "cook" meth. Jesse was not caught during the raid, however, because he was with a woman who lived next door to the home in which they cooked meth.
The woman, whose name was never revealed and who was played by actress Linda Speciale, was apparently undressed from the waist up, and Pinkman was apparently in a similar (or even more pronounced) state of undress at the time the drug raid started. Pinkman quickly put on some clothes and snuck out the window as the drug raid began. The drug enforcement agents never knew that Jesse had been there. Only Walter White saw Jesse, as he jumped out the window, with his sexy "friend" enthusiastically waving bye to him.
Walter White recognized Pinkman as one of his former high school chemistry students. He tracked down Pinkman and began a partnership in manufacturing illegal meth.
The "Sexy Neighbor" (as she is identified in the cast list) was never seen again. So, whatever it was she and Jesse were doing at the time, they must not have actually been that close in any type of "long-term" way.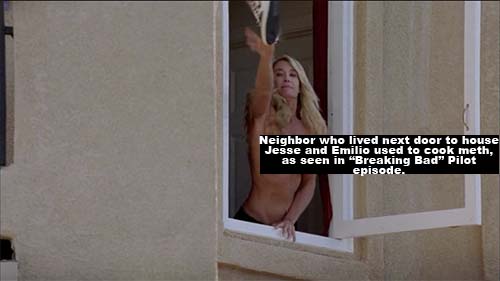 This character is in the following story which has been indexed by this website:

Breaking Bad - Season 1, Episode 1 (20 Jan. 2008): "Pilot"
(cameo)

Suggested links for further research about this character:
- http://breakingbad.wikia.com/wiki/Sexy_Neighbor
- http://www.imdb.com/character/ch0234554/
- http://breakingbad.wikia.com/wiki/Pilot
- http://www.imdb.com/title/tt0959621/fullcredits