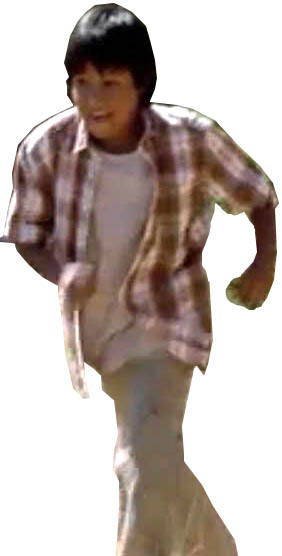 unnamed Native American boy


Religion: not determined yet

Name: unnamed Native American boy

Classification:

supporting character
Publisher(s): American Movie Classics

First Appearance: Breaking Bad - Season 1, Episode 2 (27 Jan. 2008): "Cat's in the Bag..."
Creators: Vince Gilligan, Adam Bernstein
Number of Appearances: 1
Family/Relative: unnamed Native American girl (sister)
Occupation: child
Location: New Mexico, USA
Race: Native American
Gender: male
Note: found Walt's respirator while playing with ball in desert
Two young Native American children - a brother and sister who were perhaps older elementary school age or younger middle school age - were playing with a ball in the New Mexico desert, many miles outside of Albuquerque. While playing, the found something very peculiar: a respirator.
The respirator device, which looks somewhat like a gas mask, had been used for breathing safety by chemistry teacher Walter White during one of his very first efforts "cooking" illegal methamphetamine drugs ("meth").
The boy and girl did not know the background of the respirator, but they thought it was strange and they took it to their. Not long after that, they young brother and sister went with their mother and turned the respirator over to police. Eventually, the respirator became part of the investigation being conducted by DEA agent Hank Schrader (Walter White's own brother-in-law) into local illegal activity related to the production and distribution of meth.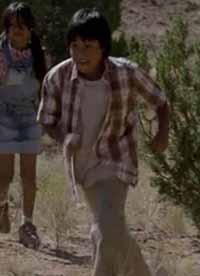 This character is in the following story which has been indexed by this website:

Breaking Bad - Season 1, Episode 2 (27 Jan. 2008): "Cat's in the Bag..."
(cameo)

Suggested links for further research about this character:
- http://breakingbad.wikia.com/wiki/List_of_bit_parts
- http://breakingbad.wikia.com/wiki/Cat's_in_the_Bag...