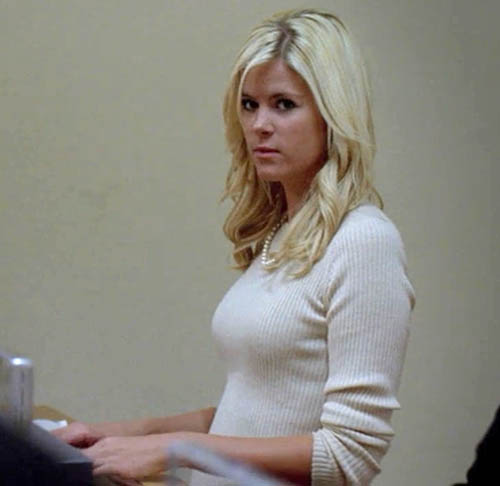 unnamed bank teller


Religion: not determined yet

Name: unnamed bank teller

Other Names: Mesa Credit Union Teller #2

Classification:

supporting character
Publisher(s): American Movie Classics

First Appearance: Breaking Bad - Season 1, Episode 4 (17 Feb. 2008): "Cancer Man"
Creators: Vince Gilligan, Jim McKay
Number of Appearances: 1
Enemy of: Ken
Ally: unnamed bank teller
Worked for: Mesa Credit Union
Location: Albuquerque, New Mexico, USA
Race: white
Gender: female
Note: stared in disgust at obnoxious bank customer Ken
A young, attractive twenty-something blonde woman worked as a bank teller at Mesa Credit Union, the banking establishment that chemistry teacher (turned meth cook) Walter White used.
Walter White went to his regular Mesa Credit Union branch office to deposit money. Unfortunately, he was standing behind an incredibly obnoxious man named Ken (whose license plate reads "KEN WINS"). Ken was talking into a bluetooth earpiece phone device. He was boastful, crude, disrespectful and completely oblivious to everybody around him. Other customers and even some tellers, including the young blond teller, stared at Ken in disbelief, but he did not notice.
None of the bank tellers or customers said anything to Ken, but no doubt everybody wished they could say something or do something to put him in his place. The blonde bank teller never learned that one of the customers later did give Ken his comeuppance: Walter White accomplished this when he surreptitiously caused Ken's expensive sports car to explode while Ken went into the store at a gas station.
This character is in the following story which has been indexed by this website:

Breaking Bad - Season 1, Episode 4 (17 Feb. 2008): "Cancer Man"
(cameo)

Suggested links for further research about this character:
- http://breakingbad.wikia.com/wiki/List_of_bit_parts
- http://breakingbad.wikia.com/wiki/Cancer_Man
- http://www.imdb.com/title/tt1054726/fullcredits