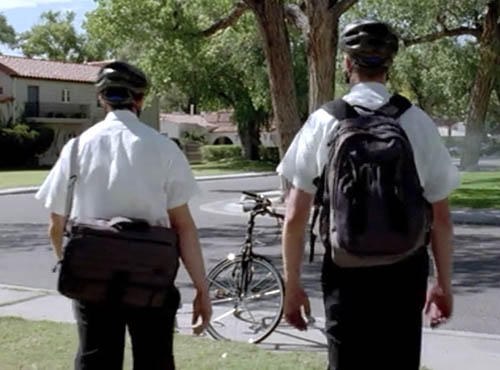 The Religious Affiliation of


two LDS missionaries


Religion: Latter-day Saint missionaries

Name: two LDS missionaries
Other Names: unnamed Mormon missionaries; Biker Hallucinations
Classification:

supporting characters

group

clergy/religious leaders
Publisher(s): American Movie Classics

First Appearance: Breaking Bad - Season 1, Episode 4 (17 Feb. 2008): "Cancer Man"
Creators: Vince Gilligan, Jim McKay
Number of Appearances: 1
Location: Albuquerque, New Mexico, USA
Gender: male
Note: knock on Jesse's door; he hallucinates they're bikers
Not long after Jesse Pinkman first cooked illegal meth with fledgeling meth cook Walter White, Jesse used some of his own product, which was more pure and more potent than meth he was accustomed to. The meth altered his mental state considerably and also made him very paranoid. The next morning, still suffering from the drug's mind-altering effects, Jesse heard a knock at his door. Looking out the door, he imagined he saw two ferociously tough motorcycle bikers, one brandishing a huge knife and the other with a hand grenade. Fearing for his life, Jesse grabbed his bag of meth and ran out the back door.
But the two men at Jesse's door were not actually motorcycle bikers. They were a pair of "Mormon" missionaries (i.e., full-time missionaries for the Church of Jesus Christ of Latter-day Saints). They wore dark slacks, conservative white shirts, ties and bicycling helmets. They left a thin pamphlet about Jesus Christ on Jesse's door and then got back on their bicycles and rode away.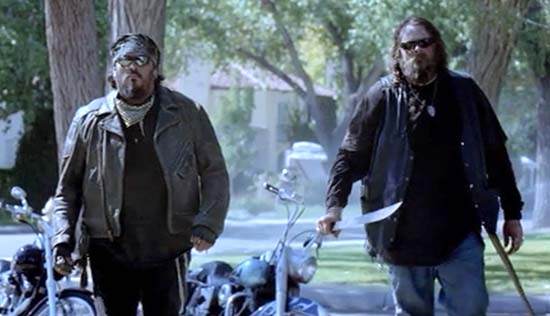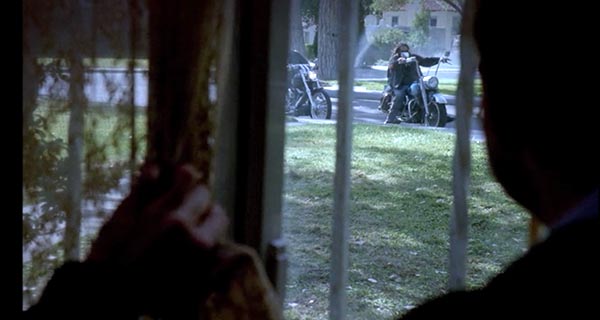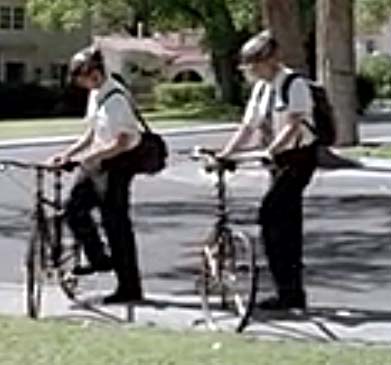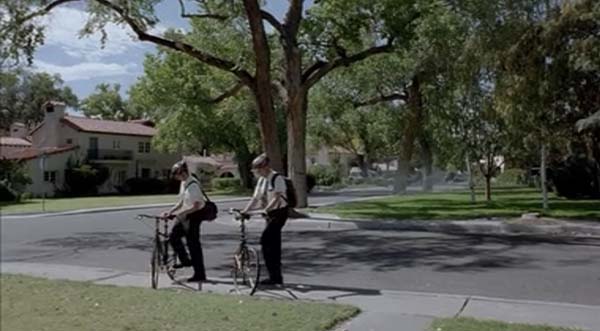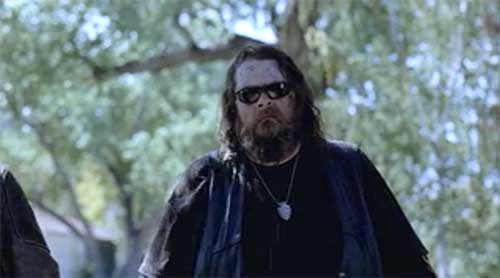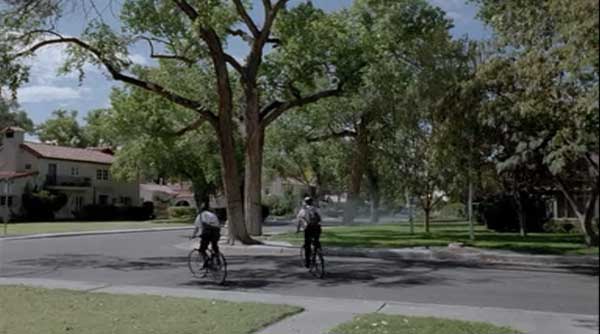 This character is in the following story which has been indexed by this website:

Breaking Bad - Season 1, Episode 4 (17 Feb. 2008): "Cancer Man"
(cameo)

Suggested links for further research about this character and the character's religious affiliation:
- http://breakingbad.wikia.com/wiki/List_of_bit_parts
- http://breakingbad.wikia.com/wiki/Cancer_Man