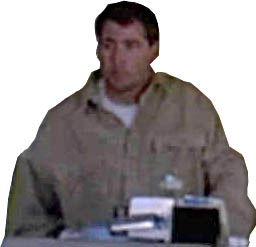 unnamed auto service clerk


Religion: not determined yet

Name: unnamed auto service clerk

Other Names: Danny's Auto Service Clerk

Classification:

supporting character
Publisher(s): American Movie Classics

First Appearance: Breaking Bad - Season 1, Episode 4 (17 Feb. 2008): "Cancer Man"
Creators: Vince Gilligan, Jim McKay
Number of Appearances: 1
Occupation: clerk
Worked for: Danny's Auto Service
Location: Albuquerque, New Mexico, USA
Race: white
Gender: male
Note: saw Ken's BMW bust into flames, destroyed by Walter White
An auto service clerk, whose name was never identified, worked at Danny's Auto Service in Albuquerque. An incredibly obnoxious man named Ken pulled into the gas station. Ken was self-absorbed and was always talking loudly on his Bluetooth phone device. The license plate on Ken's expensive BMW read "KEN WINS."
Walter White was also at the same gas station. Earlier, Walter had witnessed Ken's obnoxious boorishness while both of them were inside Mesa Credit Union. Walter had not done anything then, but at the service station he found an opportunity to have his comeuppance over Ken. Ken went inside the store. Walter quickly and methodically put a wet squeegee between the terminals of the battery under the hood of Ken's car, causing it to explode and quickly engulf the car in flames, destroying it. Walter walked away. There was nobody close by when Walter did what he did, and nobody got a good look at him or could clearly identify him as having done something to the car.
The clerk watched as Ken's car burst into flames. Like other people who witnessed Ken's constant rude behavior in public, however, the clerk was not favorably inclined toward Ken. But as Ken shouted and yelled about his car, the gas station clerk finally called the police.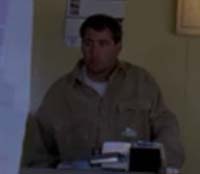 This character is in the following story which has been indexed by this website:

Breaking Bad - Season 1, Episode 4 (17 Feb. 2008): "Cancer Man"
(cameo)

Suggested links for further research about this character:
- http://breakingbad.wikia.com/wiki/List_of_bit_parts
- http://breakingbad.wikia.com/wiki/Cancer_Man