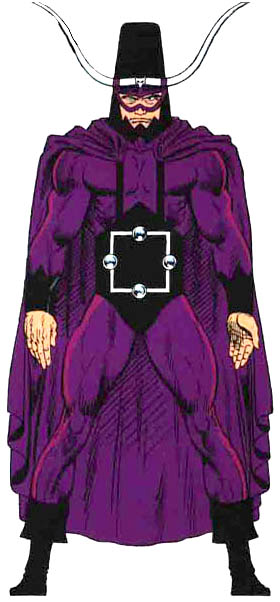 The Religious Affiliation of


Dredmund Druid


Dredmund Cromwell

Religion: Druidism; cult leader

Name: Dredmund Druid
Alter Ego: Dredmund Cromwell
Other Names: The Druid; Starwolf; Starwolf; "the ultimate Man-Wolf"; The Demon-Druid; The Demon Druid
Classification:

villain

clergy/religious leader
Publisher(s):

First Appearance: (as Druid) Strange Tales (vol. 1) #144/1 (May 1966); (as Dredmund Druid) Captain America (vol. 1) #403
Creators: Stan Lee, Jack Kirby, Howard Purcell, Mike Esposito
Super? (Has Super Powers/Special Abilities/Technology): Yes
Number of Appearances: 15
Enemy of: Captain America, Nick Fury, S.H.I.E.L.D.
Ally: Dr. Nightshade
Nation: England, United Kingdom
Birth Place: Caribou, Maine, USA
Race: white
Gender: male
As shown in Secret Defenders issues 22-25, Dredmund Druid worked with Dr. Nightshade on a werewolf project based in Starkesboro, Massachusetts. This small town had previously been infiltrated by Serpent Men.
This character is in the following 10 stories which have been indexed by this website:

Captain America

Captain America: The Legend #1 (Sep. 1996)

Suggested links for further research about this character and the character's religious affiliation:
- http://www.marvunapp.com/Appendix4/dredmunddruid.htm
- http://www.marvunapp.com/master/drbdrz.htm
- http://www.marvunapp.com/master/mjmaol.htm
- http://www.comicboards.com/marvelguide/d2.html
- http://www.marvunapp.com/master/starastark.htm
- http://www.marvunapp.com/master/starlstd.htm