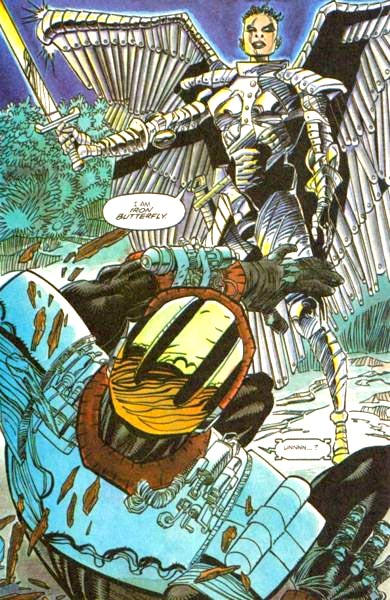 Iron Butterfly


Kahina Eskandari

Religion: not determined yet

Name: Iron Butterfly

Alter Ego: Kahina Eskandari

Classification:

hero
First Appearance: Hardware #11 (Jan. 1994): "Shadow and Act"
Creators: Dwayne McDuffie, Denys Cowan, Bob Smith, ChrisCross, Joe Brozowski (as J.J. Birch), Prentis Rollins
Super? (Has Super Powers/Special Abilities/Technology): Yes
Number of Appearances: 28
Teams/Affiliations: The Shadow Cabinet
Gender: female
Issue plot summary for Hardware #11 (Jan. 1994), from now-defunct web page at http://milestone.luthor.com/comics_detail.asp?ID=143&:
Hardware faces off against Transit as he barely escapes being teleported. We see Harm get introduced to the Star Chamber. We are introduced to Headmaster and other members of the Star Chamber include Holocaust. Headmaster blackmails Harm into joining the Star Chamber. Holocaust meets Iron Butterfly who convinces him to help the Shadow Cabinet.
This character is in the following 23 stories which have been indexed by this website:

Hardware

Icon

Justice League of America

Shadow Cabinet

Suggested links for further research about this character:
- http://www.internationalhero.co.uk/i/ironbutt.htm
- http://www.comicvine.com/iron-butterfly/29-32069/
- http://en.wikipedia.org/wiki/Shadow_Cabinet_(comics)
- http://dc.wikia.com/wiki/Hardware_Vol_1_11
- http://dc.wikia.com/wiki/Shadow_Cabinet_Vol_1_0