The Religious Affiliation of


Trees


Religion: alien

Name: Trees
Classification:

supporting characters

group
Publisher(s):

First Appearance: Trees #1 (May 2014)
Creators: Warren Ellis, Jason Howard
Number of Appearances: 3
Note: alien race that came to Earth... and stood silently...
The Trees comic book series begins ten years after the first alien race ever encountered by humans arrived on Earth. The aliens, who resemble enormous trees, landed all over the world and literally did nothing but stand still, silently.
The storyline surrounding Trees stands in contrast to so many alien invasion stories in which hostile alien species try to take over, exploit or destroy the Earth. This series asks the question: What if aliens came, and didn't seem to want anything at all? The Trees comic book series explores the aftermath of the arrival of these strange, inexplicable beings.
Synopsis from the publisher for the first issue of Trees:
Ten years after they landed. All over the world. And they did nothing, standing on the surface of the Earth like trees, exerting their silent pressure on the world, as if there were no-one here and nothing under foot. Ten years since we learned that there is intelligent life in the universe, but that they did not recognize us as intelligent or alive. Beginning a new science fiction graphic novel by Warren Ellis and Jason Howard.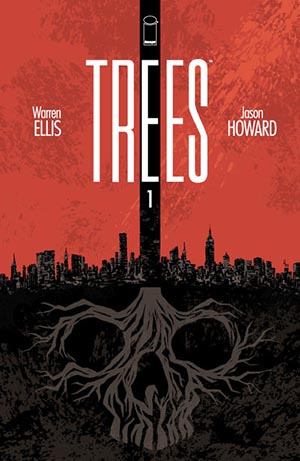 Suggested links for further research about this character and the character's religious affiliation:
- http://www.comicvine.com/trees-1/4000-454135/
- http://www.comicbookresources.com/?page=article&id=52645