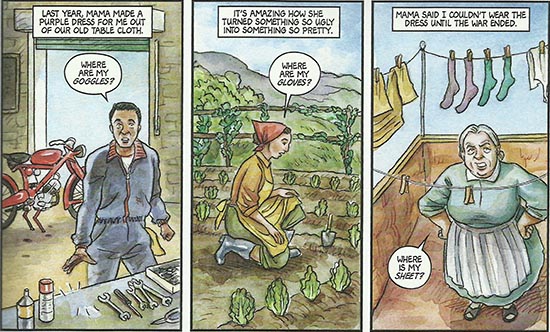 Mama


Religion: not determined yet

Name: Mama

Other Names: Rosa's Mama

Classification:

supporting character
Publisher(s): Ginger Rabbit Studio
First Appearance: Golden Age (2013)
Creators: Rob Harrington, Giulie Speziani, Cecilia Latella
Number of Appearances: 1
Family/Relatives: Rosa (daughter), Papa (husband)
Birth Place: Italy
Race: white
Gender: female
Note: deceased; only mentioned
Rosa is the central character in Golden Age (2013), a story which takes place in an Italian village during World War II. Rosa's mother apparently died sometime before this story takes place.
Rosa's mother is mentioned in two different places in Rosa's first-person narration of this story. On page 2, Rosa eats breakfast while thinking/narrating: "Mama used to tell me to eat all my breakfast. She said it was good for me. But I hate it, it tastes gross! ...I'm not big or strong yet, but I know I will be someday. Like Mama said."
On page 7, Rosa assembles her "super-hero" costume while thinking/narrating:
"Last year, Mama made a purple dress for me out of our old table cloth. It's amazing how she turned something so ugly into something so pretty. Mama said I couldn't wear the dress until the war ended. ...I love that dress more than any other thing I own, but... ...Mama never got to see me wear it."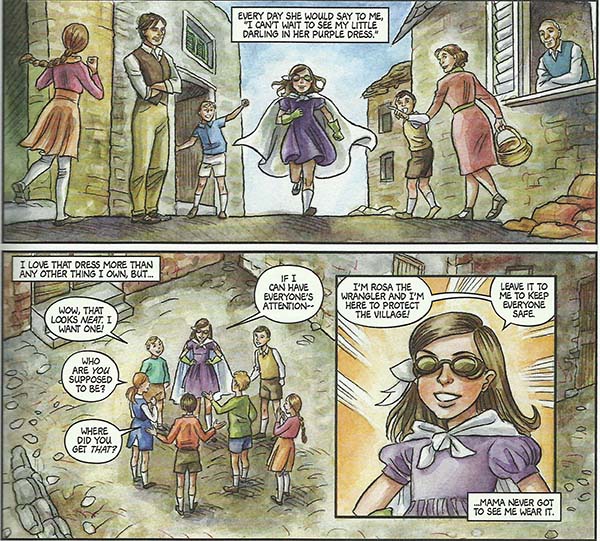 This character is in the following story which has been indexed by this website:

Golden Age (2013)
(mentioned)