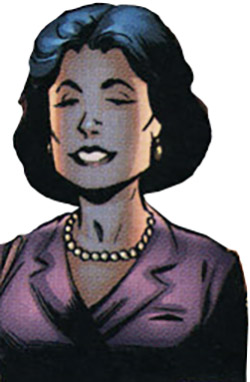 Lydia McKenzie


Religion: not determined yet

Name: Lydia McKenzie

Classification:

supporting character

villain
Publisher(s):

First Appearance: Daredevil (vol. 2) #1 (Nov. 1998): "Guardian Devil Part One: "...And a Child Shall Lead Them All""
Creators: Kevin Smith, Joe Quesada, Jimmy Palmiotti
Number of Appearances: 5
Enemy of: Daredevil, Foggy Nelson
Occupation: actress
Worked for: Mysterio
Location: New York City, New York, USA
Nation: USA
Race: white
Gender: female
Note: actress hired by Mysterio in plot against Daredevil
Lydia McKenzie hired attorney Foggy Nelson to help with her divorce. McKenzie initiated an affair with Nelson, who was engaged to Liz Osborn at the time. McKenzie was found dead after spending a night with Nelson. Eventually it was revealed that McKenzie was actually a struggling actress with a terrible drug habit. She had been hired by the villainous Mysterio in a revenge plot against Daredevil. The divorce and the relationship with Nelson had all been a ruse.
At one point during their "relationship," as a part of Mysterio's plot, McKenzie drugged Nelson so that he believed she was possessed by a demon.
The death of Lydia McKenzie was intended by Mysterio to implicate Foggy Nelson as the murderer. But Foggy's name was later cleared when the truth behind her death and her involvement with Mysterio was revealed.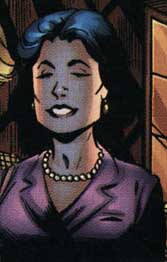 Suggested links for further research about this character:
- http://marvel.wikia.com/wiki/Lydia_McKenzie_(Earth-616)
- http://www.manwithoutfear.com/daredevil-characters/Lydia%20McKenzie
- http://www.marvunapp.com/master/mbmd.htm