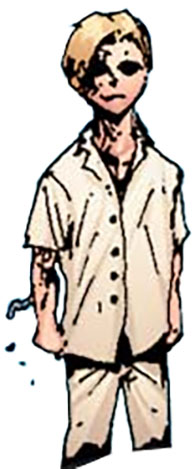 unnamed mutant


Religion: not determined yet

Name: unnamed mutant

Classification:

supporting character
Publisher(s):

First Appearance: Uncanny X-Men (vol. 1) #433 (Jan. 2004): "The Draco, Part Five"
Creators: Chuck Austen, Philip Tan
Super? (Has Super Powers/Special Abilities/Technology): Yes
Number of Appearances: 1
Ally: Carter Ghazikhanian
Occupation: student
Studied at: Xavier Institute
Race: white
Gender: male
Note: told Prof. X and Carter's mother that Carter was missing
A young mutant appears in two panels on the first page (after the recap page) in Uncanny X-Men (vol. 1) #433. The young mutant boy tells Professor Charles Xavier and nurse Annie Ghazikhanian that Annie's son Carter Ghazikhanian is missing. The young boy is Carter's classmate, and has not seen Carter in class all day. This surprises Carter's mother Annie, who thought that Carter had gone to class with Alex Summers.
Carter had not gone to class that day. Carter had stowed away on the X-men's Blackbird jet and gone with Alex Summers and the other X-Men when they traveled to the Isla Des Demonas in search of their teammate Kurt Wagner (Nightcrawler).
The young mutant appears to have some kind of techno-organic covering on his skin on his neck and chin. He is not identified by name.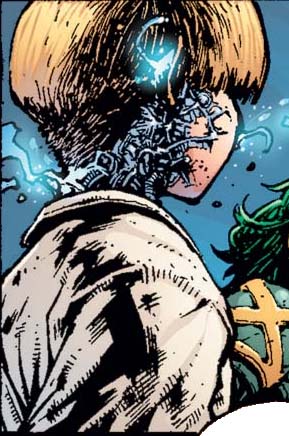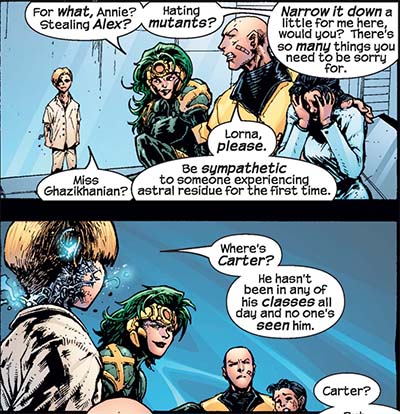 This character is in the following story which has been indexed by this website:

Uncanny X-Men (vol. 1) #433 (Jan. 2004): "The Draco, Part Five"
(2-panel cameo)

Suggested links for further research about this character:
- https://uncannyxmen.net/comics/issue/uncanny-x-men-1st-series-433