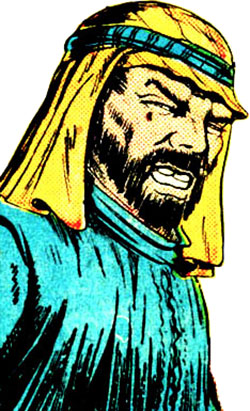 The Religious Affiliation of


Ali Harid


Religion: Sunni Muslim

Name: Ali Harid
Classification:

villain
Publisher(s):

First Appearance: Police Comics #1 (Aug. 1941): "The Attack of Ali Harid"
Creators: Clark Williams
Number of Appearances: 1
Enemy of: Eagle Evans, Snap Smith, The Lion Cub of Judah
Ally: Nazis
Occupation: ruler
Nation: Cyranis, Middle East
Race: Arab
Gender: male
In the first-ever "Eagle Evans" story, Evans and his sidekick Snap Smith went to Cyranis (presumably a stand-in country for Syria) to take pictures of enemy movements and activities. They returned with photographs, which they delivered to a general they were working for or trying to help. But they ended up getting arrested for violating a treaty with Cyranis ruler Ali Harid.
Ali Harid was allied with the Nazis and was part of the Axis powers during World War II.
Eagle Evans and Snap Smith escaped custody, teamed up with a Libyan prince, and managed to thwart Ali Harid's planned actions against American interests.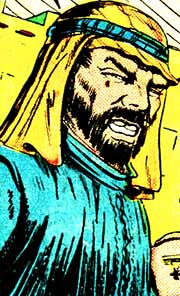 This character is in the following story which has been indexed by this website:

Police Comics #1 (Aug. 1941): "The Attack of Ali Harid"

Suggested links for further research about this character and the character's religious affiliation:
- https://comicvine.gamespot.com/ali-harid/4005-82653/
- https://www.comics.org/issue/1590/