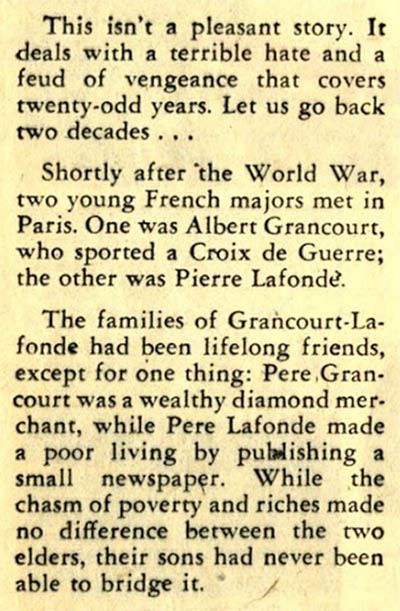 The Religious Affiliation of


Pierre LaFonde


Religion: vengeance

Name: Pierre LaFonde
Classification:

villain
Publisher(s):

First Appearance: Police Comics #1 (Aug. 1941): "Vengeance!"
Creators: Robert M. Hyatt
Number of Appearances: 1
Enemy of: Albert Grancourt, Mrs. Grancourt, ? Grancourt, ? Grancourt, Adrian Grancourt, Vivienne Grancourt
Occupation: military officer, printer
Nation: France
Race: white
Gender: male
Note: consumed with vengeance, plotted over decades
Pierre LaFonde and Albert Grancourt were friends who served together as majors in the French army. After their service, Grancourt purchased a diamond mine, which became extremely profitable. LaFonde felt that he was cheated, an he harbored tremendous resentment toward his former friend.
LaFonde's vengeance so consumed him that he plotted evil revenge against Grancourt. He waited until Grancourt married and had four children. Then LaFonde murdered each member of Grancourt's family, one by one - his children and his wife. Grancourt was so despondent that he killed himself.
With his revenge scheme complete, LaFonde then killed himself.
This character is in the following story which has been indexed by this website:

Police Comics #1 (Aug. 1941): "Vengeance!"

Suggested links for further research about this character and the character's religious affiliation:
- https://www.comics.org/issue/1590/
- https://comicvine.gamespot.com/police-comics-1/4000-127149/