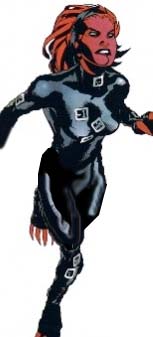 The Religious Affiliation of


Hollow


Religion: empty shell

Name: Hollow
Other Names: Penance
Classification:

hero
Publisher(s):

First Appearance: Generation X #1 (Nov. 1994): "Third Genesis"
Creators: Scott Lobdell, Chris Bachalo, Mark Buckingham
Super? (Has Super Powers/Special Abilities/Technology): Yes
Number of Appearances: 83
Teams/Affiliations: Generation X; Loners
Race: black
Gender: female
"Hollow" is the new name of an allegedly "empty shell" previously called "Penance." The "Penance" shell was previously inhabited by Monet St. Croix, the mutant superheroine known as "M." Monet was replaced within the "Penance" shell by her sisters, Nicole and Claudette St. Croix. Whenever the shell was inhabited, it seems to be a distinct character.
Nicole and Claudette St. Croix were released from the shell, and for a long time, "Penance" was not seen. But "Penance" showed up again in the Loners limited series, inhabited by a new, as-yet unrevealed host. The shell and character was renamed "Hollow" in order to avoid confusion with Robbie Baldwin, the superhero originally known as "Speedball" who adopted the name "Penance" after his role in the Stamford tragedy.
This character is in the following 2 stories which have been indexed by this website:

Generation X #1 (Nov. 1994): "Third Genesis"

X-Men (vol. 2) #41 (Feb. 1995): "Dreams Die!"
(cameo)

Suggested links for further research about this character and the character's religious affiliation:
- http://en.wikipedia.org/wiki/Penance_(X-Men)
- http://www.comicvine.com/hollow/29-10573/
- http://www.marvunapp.com/master/pbpep.htm
- http://www.marvunapp.com/master/xaxz.htm