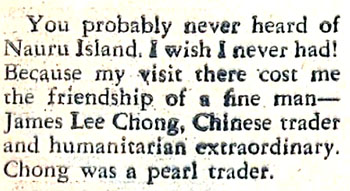 The Religious Affiliation of


James Lee Chong


Religion: ancestor veneration

Name: James Lee Chong
Other Names: old Chong; the old Chinese; Massa Chong
Classification:

supporting character
Publisher(s):

First Appearance: Police Comics #3 (Oct. 1941): "Pearls of Peril"
Creators: Robert M. Hyatt
Number of Appearances: 1
Ally: Angus Halliday
Occupation: trader
Race: Asian
Gender: male
Note: pearl trader; extraordinary humanitarian
James Lee Chong was a Chinese pearl trader who was known for paying the best price in the South Pacific for pearls. One a year, pearler Angus Halliday sold the pearls he collected to Chong.
Chong ran a trading store on the island of Nauru.
Chong was an adherent of traditional Chinese ancestor ancestor veneration. When he realized that most of his pearls had been saved from being stolen by the gang of pearl thieves (or destroyed by Mr. Gregory hiding them in a pickle barrel), Chong said: "Thank my beloved ancestors, they were not all of my pearls -- only about fifteen thousand dollars' worth. I still have fifty-sixty thousand dollars' worth hidden!"
In addition to what we know about Chong's traditional Chinese religious affiliation, he was also described as a "humanitarian extraordinary."
This character is in the following story which has been indexed by this website:

Police Comics #3 (Oct. 1941): "Pearls of Peril"