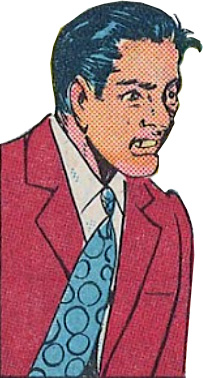 unnamed kidnapper (black hair)


Religion: not determined yet

Name: unnamed kidnapper (black hair)

Other Names: un-named kidnapper; unnamed spy

Classification:

villain
Publisher(s):

First Appearance: Police Comics #3 (Oct. 1941): "Framed for Kidnapping"
Creators: Arthur Peddy
Number of Appearances: 1
Enemy of: Phantom Lady, Don Borden
Ally: unnamed kidnapper (blonde)
Occupation: spy
Location: Washington, D.C., USA
Race: white
Gender: male
Note: tried to get State Dept. secrets from Don Borden
Two spies, whose names were never revealed, attacked State Department official Don Borden while he was walking outside with his girlfriend, Sandra Knight. They temporarily knocked Knight out, and kidnapped Borden. The spies planted evidence at the scene to make it look like Knight herself was responsible for kidnapping Borden.
Sandra Knight recovered quickly, but not quick enough to prevent they spies from getting away with Borden. Knight changed into her Phantom Lady costume and tracked down the spies, where they were in a hideout trying to force Borden to reveal State Department secrets. One of the specific secrets they wanted to obtain from him was indicated when one of the spies demanded of Borden: "What diplomatic code is the State Department using next week?"
Borden and Phantom Lady were ultimately able to defeat the two spies, but the pair proved to be quite formidable.
Note that from page to page, the coloring is inconsistent for the suits worn by the kidnappers and the suit worn by Don Borden. For example, in the opening scene, we see one kidnapper wearing a green suit and the other wearing a blue suit. Borden wears a brown or tan suit. Later, at the kidnappers' hideout, Borden is seen wearing a blue suit on one page and a tan suit on the next. In the hideout, kidnappers are seen wearing a green suit and a brown (or burgundy?) suit, but neither of them are wearing a blue suit, as one of them clearly was in the first scene.
To be clear, there are only two spies/kidnappers in the story. The coloring of their suits is simply inconsistent.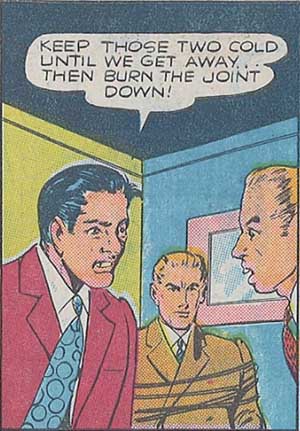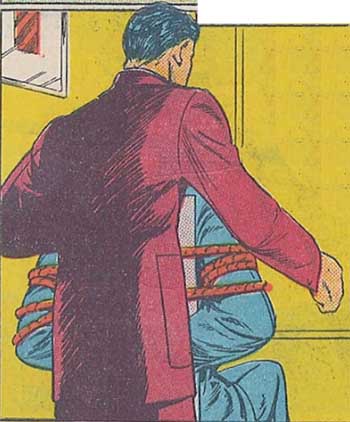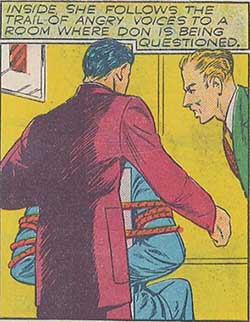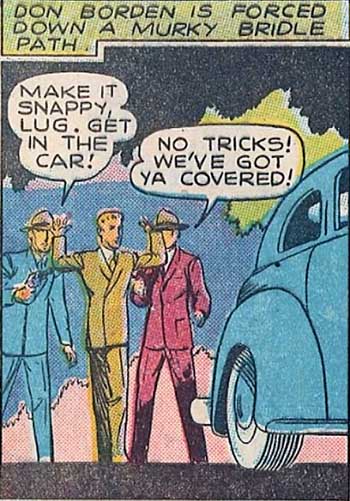 This character is in the following story which has been indexed by this website:

Police Comics #3 (Oct. 1941): "Framed for Kidnapping"

Suggested links for further research about this character:
- https://www.comics.org/issue/1723/