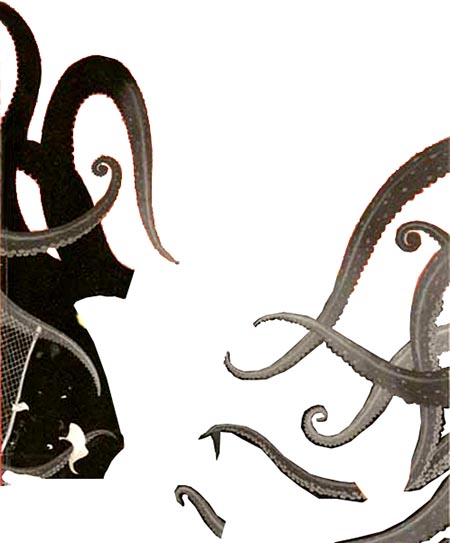 The Religious Affiliation of


Callisto cuddle sponge


Religion: N.A.

Name: Callisto cuddle sponge
Other Names: the cuddle sponge
Classification:

villains

group
Publisher(s): Doubleday
First Appearance: Flow My Tears, the Policeman Said (1974)
Creators: Philip K. Dick
Super? (Has Super Powers/Special Abilities/Technology): Yes
Number of Appearances: 1
Enemy of: Jason Taverner
Type of Organization/Group: animal species
The Callisto cuddle sponge was a bizarre alien creature used to attack the protagonist of the Philip K. Dick novel Flow My Tears, the Policeman Said. The creature was depicted on at least one version of the cover for this novel.
Every week the Jason Taverner show served up a mixture of popular celebrities, talk, and music. The host was one of the world's most popular celebrities, or at least he was on October 11, 1988. But after Taverner and Hart finished performing on the show that night, Taverner received an urgent call from a jilted lover named Marilyn Mason. Lured to her apartment, he ended up attacked by Mason, using a Callisto cuddle sponge.
Apparently the Callisto cuddle sponge knocked the famed Taverner into a parallel world where nobody knew his name.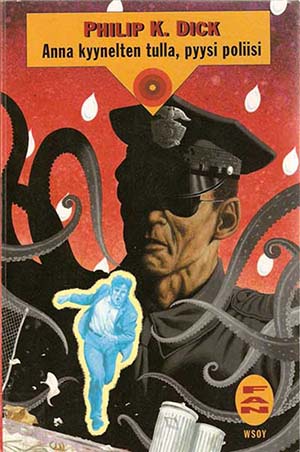 This character is in the following story which has been indexed by this website:

Flow My Tears, the Policeman Said (1974)

Suggested links for further research about this character and the character's religious affiliation:
- https://www.amazon.com/review/R2JVZN351GVLCV
- http://totaldickhead.blogspot.com/2008/08/flow-some-thoughts-on-book-blogger-did.html
- http://www.conceptualfiction.com/flow_my_tears.html
- https://www.sfsignal.com/archives/2005/03/review_flow_my_tears_the_policeman_said_by_philip_k_dick/