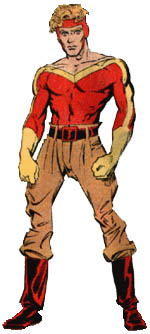 The Religious Affiliation of


Firefist


Rusty Collins

Religion: mutant supremacist; Acolyte (Magneto worship)

Name: Firefist
Alter Ego: Rusty Collins
Other Names: Firearm
Publisher(s):

First Appearance: X-Factor (vol. 1) #1 (Feb. 1986): "Third Genesis"
Creators: Bob Layton, Jackson Guice, Joe Rubinstein
Super? (Has Super Powers/Special Abilities/Technology): Yes
Number of Appearances: 89
Teams/Affiliations: Mutant Liberation Front; The Acolytes; The New Mutants; U.S. Navy; X-Terminators
Birth Place: Tulsa, Oklahoma, USA
Race: white
Gender: male
This character is in the following 39 stories which have been indexed by this website:

X-Factor

X-Force (vol. 3) #21 (Jan. 2010): "Necrosha: Chapter Two"
(1-panel cameo)

X-Men

X-Men: Phoenix Force Handbook (Sep. 2010)

Suggested links for further research about this character and the character's religious affiliation:
- http://www.comicvine.com/rusty-collins/29-13376/
- http://www.marvunapp.com/master/aaac.htm
- http://www.marvunapp.com/master/coacol.htm
- http://www.comicboards.com/marvelguide/c3.html
- http://www.marvunapp.com/master/x0xmxz.htm