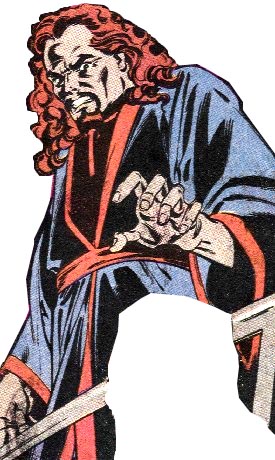 The Religious Affiliation of


The Rev


Reverend Sammy Smith

Religion: Church of the Saved (Peoples Temple) leader; later Satanism; atheist; Communist

Name: The Rev
Alter Ego: Reverend Sammy Smith
Other Names: The Reverend; Samuel Smith; Samuel "Sammy" Smith
Classification:

villain

clergy/religious leader

based on a real person
Publisher(s):

First Appearance: The Punisher (vol. 2) #4 (Nov. 1987): "The Rev"
Creators: Mike Baron, Klaus Janson
Super? (Has Super Powers/Special Abilities/Technology): Yes
Number of Appearances: 8
Enemy of: The Punisher, Joy Adams, Ray White
Worked for: Belasco
Gender: male
The character is based on Jim Jones, the real-life Communist atheist who was the leader of Peoples Temple, an ill-fated group affiliated with the Disciples of Christ.