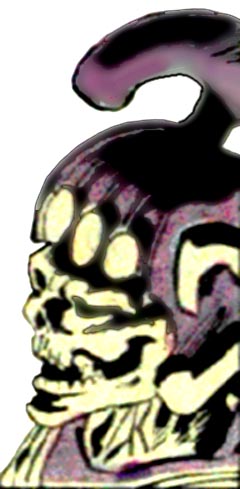 The Religious Affiliation of


Ahpuch


Mictlantechulti

Religion: Mayan deity

Name: Ahpuch
Alter Ego: Mictlantechulti
Other Names: Ah Puch; Hunhau; Cumhau; Ah Kinchel; Au Puch
Classification:

deity
First Appearance: Thor Annual #10 (Nov. 1982): "A Time to Die!"
Creators: Mark Gruenwald, Alan Zelenetz, Bob Hall, Rick Bryant, Joe Rubinstein, Andy Mushynsky, Al Gordon, Kevin Dzuban
Super? (Has Super Powers/Special Abilities/Technology): Yes
Number of Appearances: 4
Enemy of: The Phantom Stranger
Gender: male
Note: Mayan god of death; son of Tezcatlipoca
Because Ahpuch is a traditional Mayan deity, he is considered a "public domain" character, and can be used by any publisher. The first time Ahpuch appeared in a Marvel comic was in Thor Annual #10 (Aug. 1982). The first time he appeared in a DC comic was in the story titled "Can't Judge A Book...", published in Action Comics #613 (16 Aug. 1988).
This character is in the following story which has been indexed by this website:

Thor Annual #10 (Nov. 1982): "A Time to Die!"

Suggested links for further research about this character and the character's religious affiliation:
- http://www.marvunapp.com/Appendix/ahpuch.htm
- http://www.dcuguide.com/who.php?name=ahpuch
- http://comicbookdb.com/character.php?ID=15991
- http://www.randomlongbox.com/2009/08/phantom-strangerstarring-in-action_28.html
- http://www.marvunapp.com/master/ahai.htm
- http://www.marvunapp.com/master/matmaz.htm
- https://www.comics.org/issue/35971/
- http://comicbookdb.com/issue.php?ID=37286
- http://comicbookdb.com/issue.php?ID=51331
- https://www.comics.org/issue/44885/