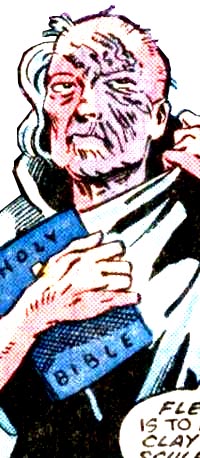 The Religious Affiliation of


Emma la Porte


Religion: Protestant Christian missionary

Name: Emma la Porte
Other Names: Emma LaPorte
Classification:

supporting character

clergy/religious leader
Publisher(s):

First Appearance: X-Factor (vol. 1) #1 (Feb. 1986): "Third Genesis"
Creators: Bob Layton, Jackson Guice, Joe Rubinstein
Number of Appearances: 2
Race: white
Gender: female
Emma tried forcing her attentions on Rusty Collins; he panicked; his mutant flame power ignited for 1st time, burning Emma severely. X-Factor #16: Later Emma found solace in Christianity, refused to let Rusty make a deal with Masque to restore her looks, at the cost of Rusty's own. Remained w/ Morlocks to bring religion to them.