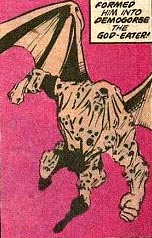 The Religious Affiliation of


Demogorge


Atum

Religion: Terran god; Egyptian deity

Name: Demogorge
Alter Ego: Atum
Other Names: Ra; Re; The God Eater; The God-Eater; Ammon Ra
Classification:

deity
Publisher(s):

First Appearance: (mentioned) "When Wakes the Sphinx!" in Strange Tales (vol. 1) #70 (Aug. 1959); (as Ammon Ra) Thor (vol. 1) #300 (Oct. 1980): "Twilight of the Gods!"; (as Demogorge) Thor Annual #10 (Nov. 1982): "A Time to Die!"
Creators: Alan Zelenetz, Bob Hall
Super? (Has Super Powers/Special Abilities/Technology): Yes
Number of Appearances: 7
Teams/Affiliations: God Squad
Gender: male
Note: Egyptian sun god
Offspring of Gaea and Demiurge (the sentient life-force of the Earth's biosphere). Designed to slay gods that have outlived their time.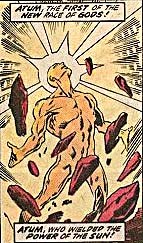 This character is in the following 5 stories which have been indexed by this website:

The Mighty Avengers (vol. 1) #23 (May 2009)
(mentioned)

Thor

X-Men

Suggested links for further research about this character and the character's religious affiliation:
- http://www.marvunapp.com/Appendix/atum.htm
- http://en.wikipedia.org/wiki/Atum_(comics)
- http://marvel.wikia.com/wiki/Atum_(Earth-616)
- http://comicbookdb.com/character.php?ID=15647
- http://www.marvel.com/universe/Atum
- http://www.marvunapp.com/master/atau.htm
- http://www.marvunapp.com/master/dem.htm
- http://www.marvunapp.com/Appendix/godhed.htm#Ammon
- https://www.comics.org/issue/15167/
- https://www.comics.org/issue/34789/
- https://www.comics.org/issue/35971/