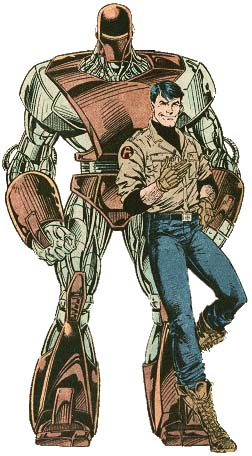 Box


Madison Jeffries

Religion: not determined yet

Name: Box

Alter Ego: Madison Jeffries

Other Names: Gemini; Gemini III; Box IV; Brother Jeffries

Classification:

hero
Publisher(s):

First Appearance: Alpha Flight (vol. 1) #16 (Nov. 1984): "...And Foresaking All Others..."
Creators: John Byrne, Bob Wiacek
Number of Appearances: 74
Teams/Affiliations: Alpha Flight; Weapon X; X-Club; Gamma Flight; Zodiac (Ecliptic)
Nation: Canada
Race: white
Gender: male
In the Age of Apocalypse, Jeffries was an agent of Apocalypse and was known as "Brother Jeffries."
This character is in the following 30 stories which have been indexed by this website:

Alpha Flight

The Amazing X-Men #2 (Apr. 1995): "Sacrificial Lambs"

Dark Avengers #8 (Oct. 2009): "Utopia, Chapter Five"
(7-panel cameo)

Dark Avengers/Uncanny X-Men: Exodus #1 (Nov. 2009): "Utopia: Conclusion"
(3-panel cameo)

Dark Avengers/Uncanny X-Men: Utopia #1 (Aug. 2009): "Utopia: Part 1"
(1-panel cameo)

Death Metal #2 (Feb. 1994): "Deathwish!"

Death Metal Vs. Genetix

New Mutants

Uncanny X-Men

X-Men

X-Men: Legacy

Suggested links for further research about this character:
- http://en.wikipedia.org/wiki/Madison_Jeffries
- http://marvel.wikia.com/wiki/Madison_Jeffries_(Earth-616)
- http://www.comicbookdb.com/character.php?ID=1733
- http://www.uncannyxmen.net/glossary/showentry.asp?fldAuto=1624
- http://en.wikipedia.org/wiki/List_of_Flight_members
- http://www.marvunapp.com/master/jbjh.htm
- http://www.marvunapp.com/master/gbgem.htm
- http://www.comics.org/issue/39295/
- http://www.comicbookdb.com/issue.php?ID=18905
- http://www.comicboards.com/marvelguide/g.htm
- http://www.comicboards.com/marvelguide/ageofapocalypse.html