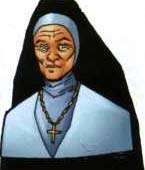 The Religious Affiliation of


Sister Maggie


Religion: Catholic nun

Name: Sister Maggie
Other Names: Grace Murdock; Sister Maggie Murdock; Maggie
Classification:

supporting character

clergy/religious leader
Publisher(s):

First Appearance: Daredevil (vol. 1) #229 (Apr. 1986): "Pariah!"
Creators: Frank Miller, David Mazzucchelli
Number of Appearances: 20
Employer: Clinton Mission Shelter
Family/Relative: Daredevil (son)
Gender: female
Note: Daredevil's mother
Grace Murdock was married to boxer "Battling" Jack Murdock. Their son was Matt Murdock, who grew up to become the super-hero Daredevil. Grace Murdock was a devout Catholic. After Grace Murdock divorced her husband Jack, she became a Catholic nun. The reasons for this are not entirely clear. Perhaps she decided she could have no more of her husband's hard-living ways. She has continued to have an interest in her son's career and on occasion has assisted him when he has been in dire circumstances.