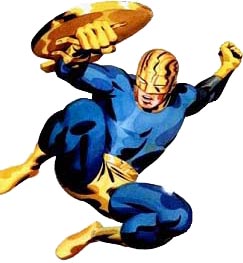 Guardian


Jim Harper

Religion: not determined yet

Name: Guardian

Alter Ego: Jim Harper

Other Names: Golden Guardian; James Jacob Harper; James Jacob "Jim" Harper; Private H.I.V.E

Classification:

hero
Publisher(s):

First Appearance: Star Spangled Comics #7 (Apr. 1942): "The Story of the Newsboy Legion"
Creators: Joe Simon, Jack Kirby
Super? (Has Super Powers/Special Abilities/Technology): Yes
Number of Appearances: 247
Comic Book Appearances: 246
TV, Film Appearances: 1
Teams/Affiliations: All-Star Squadron; Newsboy Legion
Race: white
Gender: male
This record for the "Guardian" (Jim Harper) is has NOT been separated into two separate records (indicating two separate separate character), one for the original and one for the Guardian who is the first clone of Jim Harper. The clone Jim Harper/Guardian character first appeared in Superman's Pal Jimmy Olsen #135 (Jan. 1971). Both versions of the character are regarded as a single character because the original Jim Harper's consciousness was put into the cloned body of himself in order to save his life. The clone really is the same person, simply with a new, younger version of his same original body.
This character is in the following 6 stories which have been indexed by this website:

All-Star Squadron #50 (Oct. 1985): "Crisis Point!"

Justice League: Cry for Justice

Star Spangled Comics #7 (Apr. 1942): "The Story of the Newsboy Legion"
(lead character)

Superman (vol. 2) #26 (Dec. 1988): "...It's Just a Shot Away!"

Young Justice - Season 1, Episode 1 (26 Nov. 2010): "Independence Day"

Suggested links for further research about this character:
- http://en.wikipedia.org/wiki/Guardian_(DC_Comics)
- http://www.comicvine.com/guardian/29-7644/
- http://www.dcuguide.com/who.php?name=guardian
- http://www.dcuguide.com/chronology.php?name=guardian
- http://comicbookdb.com/character.php?ID=3078
- http://en.wikipedia.org/wiki/List_of_All-Star_Squadron_members