Tiger


Masi Tanaka

Religion: not determined yet

Name: Tiger

Alter Ego: Masi Tanaka

Other Names: Avatar; Tiger Tanaka; Tanaka

Publisher(s):

First Appearance: Judomaster #91 (Oct. 1966): "Man Without a Country!"
Creators: Frank McLaughlin
Super? (Has Super Powers/Special Abilities/Technology): Yes
Number of Appearances: 4
Teams/Affiliations: All-Star Squadron; The Blood Soldiers
Enemy of: Superman, Judomaster, The Acrobat, Mountain Storm
Ally: Judomaster
Occupation: assassin, martial arts instructor, swordsman
Worked for: Yakuza
Nation: Japan
Race: Asian
Gender: male
Note: Judomaster's sidekick
The Blood Soldiers are killers for the Yakuza. "The Blood Soldiers" is an English translation of their Japanese name: Ketsueki-Senshi.
Is the villain named "Tiger" who appeared in Justice Society of America (vol. 3) #11 (Feb. 2008) as a member of the "Blood Soldiers" really the same character as the person named "Tiger" who first appeared in Judomaster #91 (Oct. 1966) and was a partner to the original Judomaster? Yes, as amazing as it may seem, this is indeed the strange twist this once-heroic character had taken when he showed up again after many years away from regularly published comics in his original role as Judomaster's partner and subsequent role as "Avatar."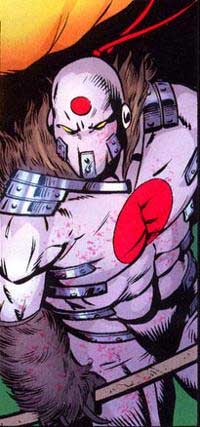 This character is in the following 9 stories which have been indexed by this website:

Judomaster

Justice Society of America (vol. 3) #11 (Feb. 2008): "Thy Kingdom Come: The Second Coming"

Suggested links for further research about this character:
- http://en.wikipedia.org/wiki/Tiger_(DC_Comics)
- http://www.comicvine.com/tiger/4005-33348/
- http://comicbookdb.com/character.php?ID=6625
- http://en.wikipedia.org/wiki/List_of_All-Star_Squadron_members
- http://blog.comicbookrevolution.net/2007_12_01_archive.html
- http://www.comixtreme.com/forums//showthread.php?t=37956
- http://comicbookdb.com/issue.php?ID=79332
- https://www.comics.org/issue/20389/
- https://www.comics.org/issue/20549/
- https://www.comics.org/issue/386543/
- http://comicbookdb.com/issue.php?ID=114287
- http://dc.wikia.com/wiki/Justice_Society_of_America_Vol_3_11