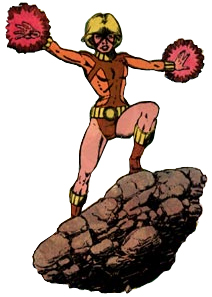 Terra


Tara Markov

Religion: Markovian Orthodox (nominal); manifestly non-religious

Name: Terra
Alter Ego: Tara Markov
Publisher(s):

First Appearance: New Teen Titans (vol. 1) #26 (Dec. 1982)
Creators: Marv Wolfman, George Perez
Number of Appearances: 165
Teams/Affiliations: The Teen Titans
Race: white
Gender: female
This character is in the following 11 stories which have been indexed by this website:

Assassins #1 (Apr. 1996): "Political Suicide"
(character based on)

Batman and the Outsiders

Harley Quinn #21 (Aug. 2002): "Hell and Highwater!"

Justice League of America

Outsiders

Teen Titans (vol. 3) #75 (Nov. 2009): "Wyld Thing"
(1-panel cameo)

Suggested links for further research about this character and the character's religious affiliation:
- http://www.dcuguide.com/who.php?name=terra
- http://www.dcuguide.com/chronology.php?name=terra
- http://www.comicvine.com/terra/29-5307/
- http://www.adherents.com/lit/comics/TeenTitans.html
- http://www.cosmicteams.com/jsa/_chron/jsachron5.html