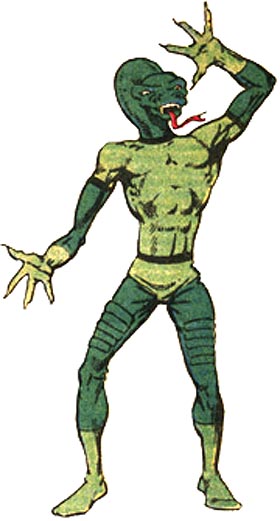 The Religious Affiliation of


Slither


Aaron Solomon

Religion: mutant supremacist

Name: Slither
Alter Ego: Aaron Solomon
Other Names: Aaron Salomon
Classification:

villain
Publisher(s):

First Appearance: Captain America Annual #4 (Nov. 1977): "The Great Mutant Massacre!"
Creators: Jack Kirby, John Verpoorten, John Tartaglione
Super? (Has Super Powers/Special Abilities/Technology): Yes
Number of Appearances: 22
Teams/Affiliations: Brotherhood of Mutants; Fangs; Mutant Force; Serpent Society; The Resistants
Occupation: mercenary
Gender: male
In Captain America (vol. 1) #419, Viper utilized super-villain team she organized called Fangs. They were essentially pawns in her latest nihilist scheme. The team consisted of Bludgeon, Heatray, Razorblade, and Slither).
This character is in the following 16 stories which have been indexed by this website:

Captain America

The Defenders

Omega the Unknown Classic (Dec. 2005): "The Return of the Original Defenders!"

Suggested links for further research about this character and the character's religious affiliation:
- http://en.wikipedia.org/wiki/Slither_(comics)
- http://www.comicvine.com/slither/29-14557/
- http://www.marvunapp.com/master/slfslz.htm
- http://www.marvel.com/universe/Brotherhood_of_Mutants
- http://comicbookdb.com/character.php?ID=4663
- http://comicbookdb.com/issue.php?ID=16995
- https://www.comics.org/issue/30586/
- http://www.marvunapp.com/master/muomuz.htm
- http://www.comicboards.com/marvelguide/s3.html
- http://www.marvunapp.com/master/resrez.htm
- http://www.marvunapp.com/master/fan.htm