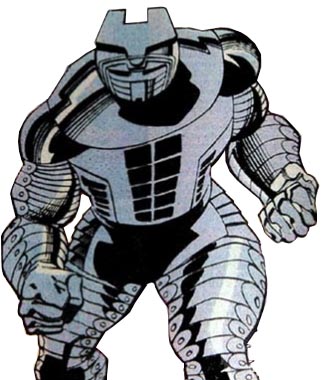 The Religious Affiliation of


The Destroyer


Religion: N.A.

Name: The Destroyer
Other Names: Destroyer VI
Classification:

villain
Publisher(s):

First Appearance: Journey Into Mystery (vol. 1) #118 (July 1965): "To Kill a Thunder God!"
Creators: Stan Lee, Jack Kirby, Vince Colletta
Super? (Has Super Powers/Special Abilities/Technology): Yes
Number of Appearances: 58
Teams/Affiliations: Heralds of Galactus
Enemy of: Hargen the Measurer, Tefral the Surveyor
Planet: Asgard, The Nine Worlds
Gender: male
construct of Odin, formerly used as herald of Galactus, imbued with power of twenty pantheons of gods as final defense against Celestials, stored in temple in Vietnam until released by Buck Franklin
This character is in the following 7 stories which have been indexed by this website:

Dark Reign Files #1 (Apr. 2009)

The Defenders (vol. 2) #10 (Dec. 2001): "Head to Head"
(hologram)

Doctor Doom and the Masters of Evil #3 (June 2009)
(cameo)

Journey Into Mystery

Marvel Fanfare (vol. 1) #56 (Apr. 1991): "Marvel Heroes"

Marvel: Ultimate Alliance (24 Oct. 2006)

Suggested links for further research about this character and the character's religious affiliation:
- http://marvel.com/universe/Destroyer_(construct)
- http://www.comicvine.com/destroyer/29-7940/
- http://www.marvunapp.com/master/dendes.htm
- http://www.comicboards.com/marvelguide/d.htm