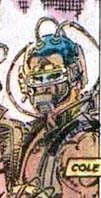 Wade Cole


Religion: not determined yet

Name: Wade Cole

Other Names: Cole

Classification:

villain
Publisher(s):

First Appearance: The Uncanny X-Men (vol. 1) #133 (May 1980): "Wolverine: Alone!"
Creators: John Byrne, Chris Claremont, Terry Austin
Super? (Has Super Powers/Special Abilities/Technology): Yes
Number of Appearances: 25
Teams/Affiliations: The Hellfire Club; The Reavers
Enemy of: X-Men
Gender: male
Cole's name is first mentioned in panel 3 on page 3 in The Uncanny X-Men #133. Cole is one of a group of regular Hellfire Club soldiers wearing their standard blue and red uniform. They were looking for Wolverine, and then were surprised when the mutant X-Man jumped from the ceiling and attacked them. After defeating the older Hellfire Club soldiers, only Cole and one other are left. One of them shoots Wolverine, who falls backwards into a pile of boxes. Cole approaches the pile. Another soldier says: "He's down, Cole, an' he ain't movin'! s he--?!"
Cole says: "I don't know! Stay back and cover me! I'm positive I hit Wolverine dead center, but tonight, I'm taking no chances."
Wolverine is not dead. When Cole walks up to him to check his status, Wolverine slashes him, injuring him seriously.
This character is in the following 3 stories which have been indexed by this website:

Classic X-Men #39 (Nov. 1989): "Wolverine: Alone!"

The Uncanny X-Men (vol. 1) #133 (May 1980): "Wolverine: Alone!"

X-Treme X-Men Annual 2001 (2001): "Queen of Shadows"

Suggested links for further research about this character:
- http://www.comicvine.com/cole/29-29212/
- http://marvel.wikia.com/Wade_Cole_(Earth-616)
- http://www.marvel.com/universe/Reavers
- http://www.marvunapp.com/master/coacol.htm
- http://www.marvunapp.com/master/rbrec.htm