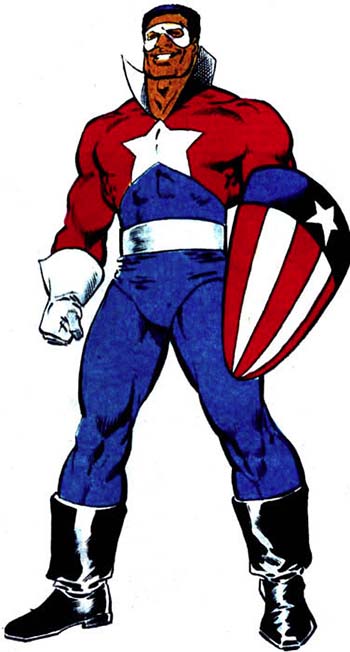 Battlestar


Lemar Hoskins

Religion: not determined yet

Name: Battlestar

Alter Ego: Lemar Hoskins

Other Names: Bucky; Bucky V; BattleStar; Battle Star; Lemar Hoskin

Classification:

hero
Publisher(s):

First Appearance: Captain America (vol. 1) #323 (Nov. 1986): "Super-Patriot Is Here"
First Appearance (Additional Details): (as one of the Buckies) Captain America (vol. 1) #323 (Nov. 1986): "Super-Patriot Is Here"; (as Bucky) Captain America (vol. 1) #334 (Oct. 1987): "Basic Training"; (as Battlestar) Captain America (vol. 1) #341 (May 1988): "Free Speech"
Creators: Mark Gruenwald, Paul Neary, John Beatty
Super? (Has Super Powers/Special Abilities/Technology): Yes
Number of Appearances: 67
Teams/Affiliations: Anti-Registration Underground; Buckies; Commission on Superhuman Activities; Wild Pack
Occupation: federal agent, mercenary, wrestler
Birth Place: Chicago, Illinois, USA
Race: black
Gender: male
Note: sidekick of U.S. Agent
Wrestler who gained superhuman strength via Power Broker treatment. Joined Bold Urban Commandos ("Buckies"), who wore variations on Captain America's costume and claimed to be supporters of Captain America's rival, John Walker, the Super-Patriot. The Buckies pretended to attack the Super-Patriot at a Central Park rally as a public relations stunt.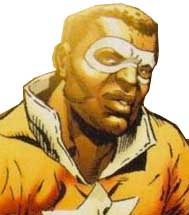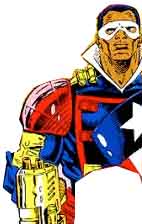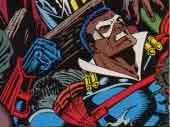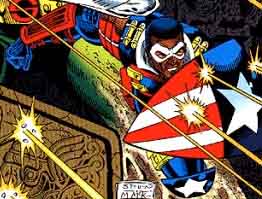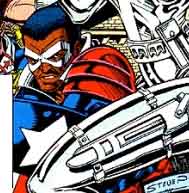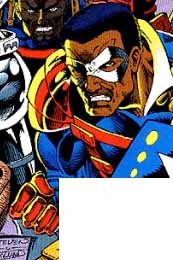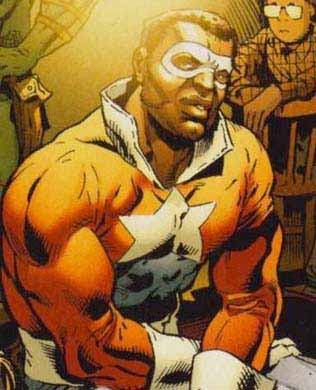 This character is in the following 72 stories which have been indexed by this website:

The Amazing Spider-Man

Captain America

Civil War: Battle Damage Report #1 (Mar. 2007)

Daredevil

Silver Sable and the Wild Pack

Thunderbolts (vol. 1) #41 (Aug. 2000): "Tug of War!"

Suggested links for further research about this character:
- http://www.marvel.com/universe/Battlestar
- http://www.comicvine.com/battlestar/29-13744/
- http://en.wikipedia.org/wiki/Battlestar_(comics)
- http://comicbookdb.com/character.php?ID=4767
- http://www.marvunapp.com/master/basbaz.htm
- http://www.marvunapp.com/master/bsbul.htm
- http://www.marvunapp.com/master/anoanz.htm
- http://comicbookdb.com/issue.php?ID=18051
- https://www.comics.org/issue/42058/
- http://www.silversable.com/comics/issue-3.html
- https://www.comics.org/issue/87626/
- http://www.marvunapp.com/master/wiawil.htm
- http://www.comicboards.com/marvelguide/b.htm
- http://marvel.wikia.com/Captain_America_Vol_1_323