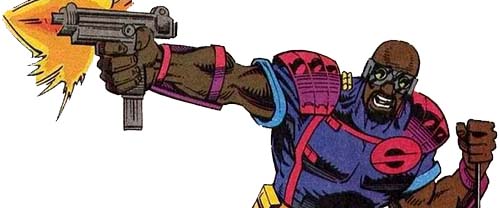 Larry Arnold


Religion: not determined yet

Name: Larry Arnold

Other Names: Larry

Classification:

hero
Publisher(s):

First Appearance: Silver Sable and the Wild Pack #21 (Feb. 1994): "Home of the Bodybag"
Creators: Gregory Wright, Steven Butler, Pam Eklund
Number of Appearances: 14
Teams/Affiliations: Wild Pack
Occupation: mercenary
Race: black
Gender: male
Larry Arnold was almost always referred to simply by his first name, as "Larry."
Although Marvel.wikia.com records an appearance of Larry Arnold in Silver Sable and the Wild Pack #9, we believe this is an error and that Mr. Arnold's first appearance was not until Silver Sable and the Wild Pack #21. Issues #21 and 22 of this series have scenes which rather directly introduce him as a new character and induct him into the ranks of the Wild Pack.
On the other hand, Larry Arnold is a long-time friend of Wild Pack member Raul Quentino, going back to before Quentino was in the Wild Pack. Although it seems unlikely that Larry Arnold is actually in Silver Sable and the Wild Pack #9, it is theoretically possible and only a careful reading of this issue would put the question to rest.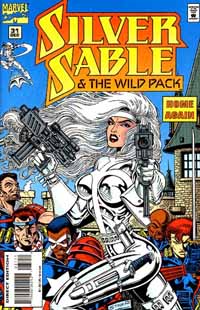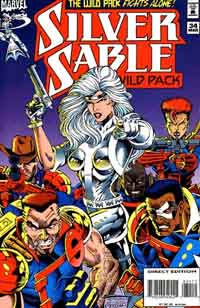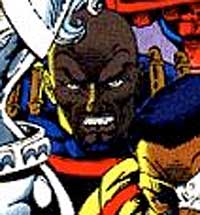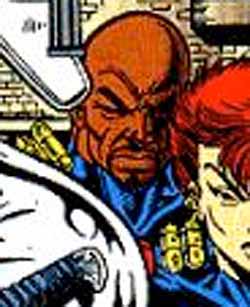 This character is in the following 15 stories which have been indexed by this website:

Daredevil (vol. 1) #328 (May 1994): "Apprehensions"

Silver Sable and the Wild Pack

Suggested links for further research about this character:
- http://comicbookdb.com/character.php?ID=16441
- http://www.marvunapp.com/master/ariarz.htm
- http://www.silversable.com/comics/issue-21.html
- http://www.marvunapp.com/master/laold.htm
- https://www.comics.org/issue/87644/
- http://comicbookdb.com/issue.php?ID=65300
- http://www.silversable.com/comics/issue-22.html
- http://www.marvunapp.com/master/wiawil.htm
- https://www.comics.org/issue/87647/
- https://www.comics.org/issue/87656/
- http://www.comicboards.com/marvelguide/a2.html
- http://marvel.wikia.com/Silver_Sable_Vol_1_9