Blue Streak


Don Thompson

Religion: not determined yet

Name: Blue Streak

Alter Ego: Don Thompson

Other Names: Bluestreak; Blue Boy; Don Thomas

Publisher(s):

First Appearance: Captain America (vol. 1) #217 (Jan. 1978): "The Search for Steve Rogers!"
Creators: Roy Thomas, Don Glut, John Buscema, Pablo Marcos
Super? (Has Super Powers/Special Abilities/Technology): Yes
Number of Appearances: 10
Teams/Affiliations: Hood's Army; SHIELD Super-Agents; The Corporation
Enemy of: Captain America
Occupation: criminal, intelligence agent
Gender: male
Although now better known villain, Blue Streak first appeared in Captain America (vol. 1) #217 as a member of the SHIELD Super-Agents, which was intended to be a SHIELD-sanctioned super-hero team. Other members of the team were Texas Twister, Marvel Boy (Wendell Vaughn) and Vamp. This was a relatively short-lived team. It was disbanded in Captain America #230 after it was discovered that it had been infiltrated by agents of the nefarious secret organization known only as "the Corporation."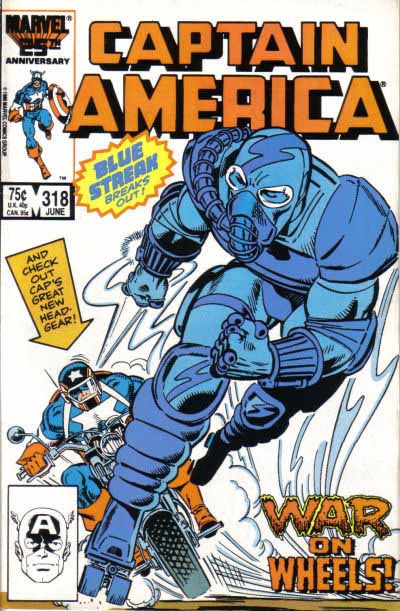 This character is in the following 7 stories which have been indexed by this website:

Captain America

Suggested links for further research about this character:
- http://en.wikipedia.org/wiki/Blue_Streak_(comics)
- http://comicbookdb.com/character.php?ID=5929
- http://marvel.wikia.com/wiki/Don_Thomas_(Earth-616)
- http://www.comicvine.com/blue-streak/29-14446/
- http://www.marvunapp.com/master/blooblz.htm
- http://comicbookdb.com/issue.php?ID=16932
- https://www.comics.org/issue/31860/
- http://www.comicboards.com/marvelguide/b2.html
- http://www.marvunapp.com/master/shiashie.htm