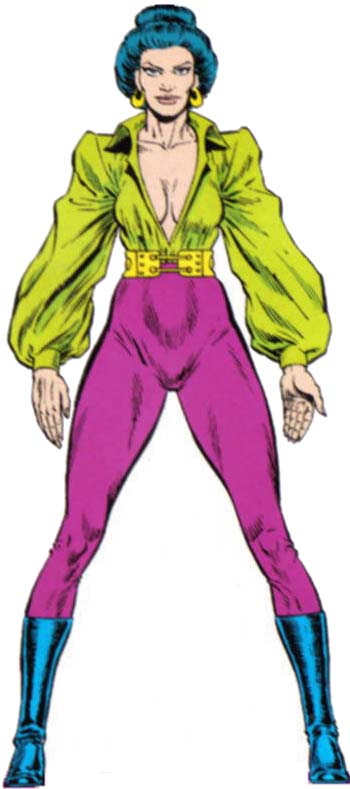 Vamp


Denise Baranger

Religion: not determined yet

Name: Vamp

Alter Ego: Denise Baranger

Other Names: Animus

Publisher(s):

First Appearance: (as Vamp) Captain America (vol. 1) #217 (Jan. 1978): "The Search for Steve Rogers!"; (as Animus) Captain America (vol. 1) #222 (June 1978): "Monumental Menace!"
Super? (Has Super Powers/Special Abilities/Technology): Yes
Number of Appearances: 12
Teams/Affiliations: SHIELD Super-Agents; The Corporation
Enemy of: Captain America, Agent 74
Gender: female
Although now better known villain, Blue Streak first appeared in Captain America (vol. 1) #217 as a member of the SHIELD Super-Agents, which was intended to be a SHIELD-sanctioned super-hero team. Other members of the team were Texas Twister, Marvel Boy (Wendell Vaughn) and Blue Streak. This was a relatively short-lived team. It was disbanded in Captain America #230 after it was discovered that it had been infiltrated by agents of the nefarious secret organization known only as "the Corporation."
This character is in the following 12 stories which have been indexed by this website:

Captain America

Captain America: The Legend #1 (Sep. 1996)

Suggested links for further research about this character:
- http://marvel.wikia.com/wiki/Vamp
- https://www.comics.org/issue/31860/
- http://comicbookdb.com/issue.php?ID=16932
- http://www.comicboards.com/marvelguide/v.htm
- http://www.marvunapp.com/master/vaavam.htm
- http://www.marvunapp.com/master/shiashie.htm