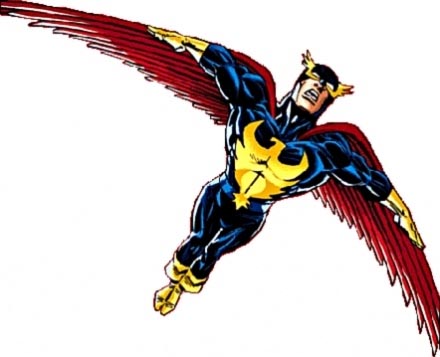 Nighthawk


Kyle Richmond

Religion: not determined yet

Name: Nighthawk

Alter Ego: Kyle Richmond

Other Names: Nighthawk I; Nighthawk II; 4D-Man; 4D Man

Classification:

hero
Publisher(s):

First Appearance: The Avengers (vol. 1) #69 (Oct. 1969): "Let the Game Begin"
Creators: Roy Thomas, Sal Buscema, Sam Grainger
Super? (Has Super Powers/Special Abilities/Technology): Yes
Number of Appearances: 361
Teams/Affiliations: Redeemers (Earth-712); Redeemers; Secret Avengers; Squadron Sinister; Squadron Supreme; The Defenders; The Thunderbolts
Enemy of: Remnant, Huckster, Dumog, Tapping Tommy, Mindy Williams, Mr. Haverhill, snow giant constructs, Screechy
Employer: Richmond Enterprises
Birth Place: Mamaroneck, New York, USA
Race: white
Gender: male
Note that Kyle Richmond of mainstream Marvel Earth (Earth 616) and Kyle Richmond of the Squadron Supreme Earth (Earth 712) are technically two different characters, each with their own distinct history and continuity. But because both characters are known as "Nighthawk" and wear an essentially identical costume, and because there are no known differences in the religious affiliation between the two characters, there is one single database entry for both versions.
Kyle Richmond is a well-established Marvel super-hero known as Nighthawk, perhaps best known as a member of the Defenders. There are a few alternative timeline and alternative dimension versions of Kyle Richmond. Typically we consider all such alternative versions in a single database entry (and single dedicated webpage). This is because alternative versions of characters invariably share the same religious affiliation.
The "Earth-X" (or "Universe X", a.k.a. Earth-9997) version of Kyle Richmond strikes us as so distinctive and unusual that he merits special attention. We will probably need to carefully read the story that portrays him a few times in order to grasp the religious significance of the character. On Earth-X, Kyle Richmond is known as "4D-Man. Jeff Christiansen's description of the character reads: "Cosmic consciousness. Once chronicled the events of Earth X till he was betrayed by Christians."
Kyle Richmond appeared as "4D-Man" in Universe X #0 (Sep. 2006). This story was written by Roy Thomas, with art by Sal Buscema, Jim Krueger, and Dougie Braithwaite.
Does this mean that Kyle Richmond of Earth-X has achieved "cosmic consciousness" (whatever that is), or has he somehow become a "cosmic consciousness"? Does this mean he should be classified with cosmic entities?
And what is meant by the part about him chronicling events on Earth X until "he was betrayed by Christians"? Does this mean he was betrayed by somebody named "Christians," such as Isaac Christians (a.k.a. the superhero member of the Defenders known as "Gargoyle")? Or does this mean that 4D-Man was betrayed by adherents of Christianity? Did a few people who call themselves Christians betray 4D-Man? Or did Christianity as a whole somehow act in concert and betray him? If so, why?
Clearly there are many unanswered questions about this version of Kyle Richmond. Further careful reading and research is needed.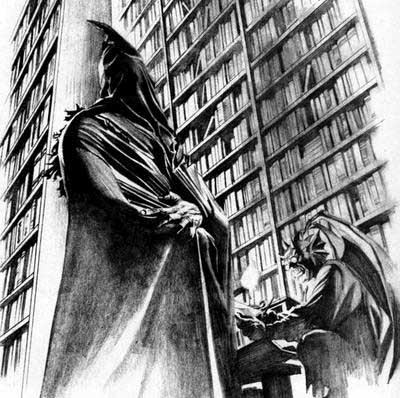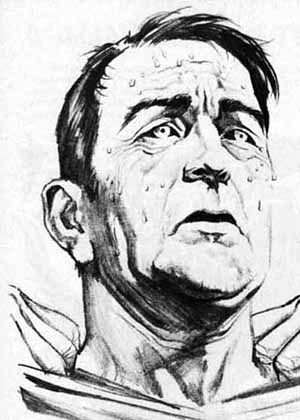 This character is in the following 165 stories which have been indexed by this website:

The Avengers

Avengers: The Initiative #1 (June 2007): "Happy Accidents"
(cameo)

Captain America

Civil War: Battle Damage Report #1 (Mar. 2007)

Daredevil (vol. 1) #62 (Mar. 1970): "Quoth the Nighthawk, "Nevermore!""

Dark X-Men: The Beginning #3 (Oct. 2009): "Hidden Depths"
(1-panel cameo)

The Defenders

Giant-Size Defenders

Lunatik #1 (Dec. 1995)
(cameo)

Marvel Super-Hero Contest of Champions #1 (June 1982): "A Gathering of Heroes!"

Marvel Team-Up

Marvel Treasury Edition #12 (Jan. 1976): "The Duck and the Defenders"

Marvel Two-in-One (vol. 1) #34 (Dec. 1977): "A Monster Walks Among Us!"
(lead character)

Ms. Marvel (vol. 2) #14 (June 2007): "The Deal: Part 2"
(cameo)

The New Avengers (vol. 2) #7 (Feb. 2011)
(1-panel cameo)

New Thunderbolts

Omega the Unknown Classic

The Order

The Thing (vol. 2) #8 (Aug. 2006): "Last Hand"

Thunderbolts

Universe X #0 (Sep. 2002)
(lead character)

Suggested links for further research about this character:
- http://en.wikipedia.org/wiki/Nighthawk_(Marvel_Comics)
- http://comicbookdb.com/character.php?ID=2168
- http://comicbookdb.com/character.php?ID=8363
- http://www.comicvine.com/nighthawk/29-4832/
- http://www.marvunapp.com/master/nianightp.htm
- http://www.marvunapp.com/master/sqss.htm
- http://www.marvunapp.com/master/fosfoz.htm
- http://comicbookdb.com/issue.php?ID=17414
- https://www.comics.org/issue/23035/
- http://en.wikipedia.org/wiki/List_of_Thunderbolts_members
- http://www.comicboards.com/marvelguide/n2.html
- http://www.comicboards.com/marvelguide/earth-s.html
- http://www.comixfan.com/xfan/forums/archive/index.php/t-13150.html
- https://www.comics.org/issue/88575/
- http://comicbookdb.com/issue.php?ID=1341