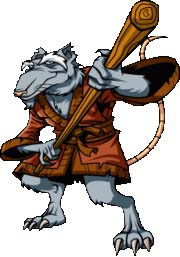 The Religious Affiliation of


Master Splinter


Hamato Yoshi

Religion: Zen master

Name: Master Splinter
Alter Ego: Hamato Yoshi
Classification:

supporting character

hero

clergy/religious leader
Publisher(s):

First Appearance: Teenage Mutant Ninja Turtles (vol. 1) #1 (May 1984)
Creators: Kevin Brooks Eastman, Peter Alan Laird
Super? (Has Super Powers/Special Abilities/Technology): Yes
Number of Appearances: 359
Comic Book Appearances: 174
TV, Film Appearances: 178
Video Game, Computer Game Appearances: 7
Teams/Affiliations: Teenage Mutant Ninja Turtles (teacher)
Gender: male
Master Splinter is the sensei of the Teenage Mutant Ninja Turtles. The word "sensei" is Japanese for "teacher," but in English the word has a special connotation signifying an honored lead leader teacher or instructor of martial arts.
This character is in the following story which has been indexed by this website:

Teenage Mutant Ninja Turtles (vol. 1) #1 (May 1984)

Suggested links for further research about this character and the character's religious affiliation:
- http://www.imdb.com/character/ch0000543/
- http://www.comicvine.com/master-splinter/29-42407/
- http://en.wikipedia.org/wiki/Teenage_Mutant_Ninja_Turtles
- http://www.kidzworld.co.za/primatoys/primatoys_tmnt.htm
- http://www.play.com/Music/MusicDVD/4-/181499/Product.html?source=9593
- http://www.fayesnyder.com/part2.htm
- http://www.nationmaster.com/encyclopedia/Master-Splinter